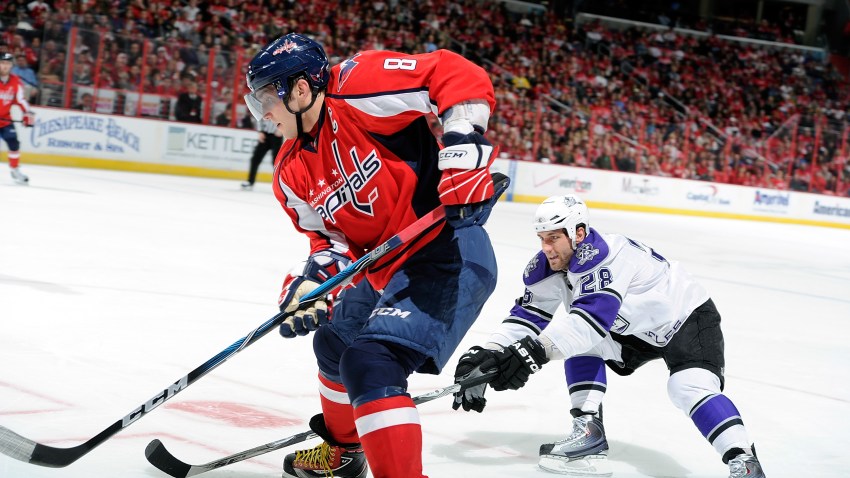 The Capitals might be glad to get away to the West Coast after Saturday afternoon's 4-1 drubbing at the hands of the Los Angeles Kings at the Verizon Center.
The offense didn't click. The defense looked porous. And the effort, while seemingly better than Tuesday's performance against San Jose, still wasn't up to snuff.
So the team held a players-only meeting following Saturday's game. Coach Bruce Boudreau avoided the locker room and let the players hash it out among themselves before they escaped for a five-game road trip.
Boudreau said he was going to address the team after the game, but a player stepped in and said he would handle it. He didn't identify who that player was. But veteran winger Mike Knuble was very outspoken with the media afterward.
A sampling of his thoughts:
"It's time to start throwing the switch toward the playoffs. It's like we're waiting for something to happen. We're entering the toughest part of our season here and it will be a real indicator if we're a serious contender or not, quite honestly."
"I don't know what we're waiting for. Every game is important. Those are huge points we left on the table the last two games."
"There's not a lot of urgency, but we've got to find it. Because this road trip could really be great or it could be an absolute embarrassment."
Alex Ovechkin, who scored the first goal of the game on the game's first shot, wouldn't say what the players talked about during their post-game meeting. Instead, he summed it up like so: "Forget this game and go to road trip."
Even though Boudreau didn't talk to the players afterward, he let his feelings be known during a timeout after his team's third-period collapse. If you read lips, you know there were a few choice words uttered that we're not allowed to print here.
Winger Matt Hendricks described it as "encouragement."
Boudreau has tried just about everything in his arsenal to motivate his team this year. And in fact, in the third period he started benching players to try to send a message. But he knows that may not be the best method to get through to his squad.
"It's good to send a message and take ice time away, but you can't do it on a consistent basis," Boudreau said. "You've got to do it and hopefully they get it. And when they get it, hopefully it turns around."
Outside of the long losing streak the Caps had earlier this season that was featured heavily during the 24/7 HBO series, this may be the toughest stretch of the team's season. Morale is low, and there appears to be no way out unless the players choose to dig themselves out.
"Hopefully this is as low as we get," Boudreau said. "Right now, this was something we (the coaching staff) were counting on. Winning this game as a springboard for the long road trip."
Ah yes, the road trip. Long trips like this to the West Coast have a tendency to bring a team together -- if they play well. If they don't, well, it can be a long, excruciating experience.
Veterans like Hendricks and Knuble are hoping for the former.
"We have to get everyone on the same page for a solid 60 minutes," Hendricks said. "We're going to have mistakes and turnovers and times when things don't go the right way, but if we can get everyone committed and buying into the exact same thing ... it needs to be everyone. We're working at it and hopefully we can figure it out."