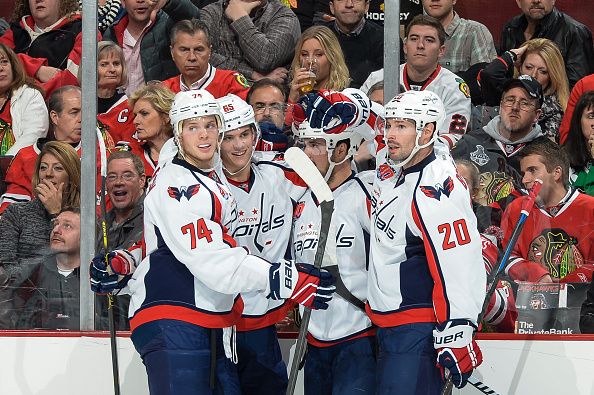 Washington Capitals coach Barry Trotz has noticed a trend among his forward lines through 20 games. One line carries the bulk of the offensive load, while the other three vanish from the scoresheet.
"I think for the most part, our team, we haven't had a stretch where I would say Line 1-4 has been chipping in and productive," Trotz said after the Capitals prepared for the New York Islanders at Nassau Coliseum on Wednesday morning. "We need production through the lineup. Obviously we get production from the [Alex] Ovechkins and [Nicklas] Backstroms of the world, but the next group of players needs to step up and produce. They've been pretty dry for a little while here."
That group includes Washington's second line: Marcus Johansson, Andre Burakovsky and Troy Brouwer. In the Capitals' past five games, they have not produced a single point at even strength despite receiving the largest percentage of offensive-zone starts. In the three games prior to their recent slump, Johansson, Burakovsky and Brouwer combined for four goals and nine points.
Each member's even-strength Fenwick percentage -- a measurement of on-ice differential accounting for unblocked shot attempts -- is above 54 percent since Nov. 14, suggesting that the sustained pressure will eventually lead to a renewed offensive effort.
"The production isn't there because of a few things we need to work on, but all in all, I think we've been pretty dependent and pretty consistent on [having] a good offensive game," said Brouwer, who has two 5-on-5 goals this season. "We just need to be able to score. It'll come."
The primary areas in need of improvement, according to Johansson, are breaking out of the defensive zone more efficiently and knowing when to resist the prettier play when something simpler would be more effective.
"There were a couple games that we could have played better, but for the most part, I think we're creating enough chances to score a couple goals every game and we're doing the right things," Johansson said. "That's what's good about it. I think it would be worse if we felt that we didn't get anything out of anything we did.
"We're feeling good about it and we're creating chances and I think we've been spending a lot of time in the offensive zone. Just keep doing that, I think the goals are going to come. I don't think we're worried about that."
---
Follow Adam on Twitter @AdamVingan and e-mail your story ideas to adamvingan (at) gmail.com.