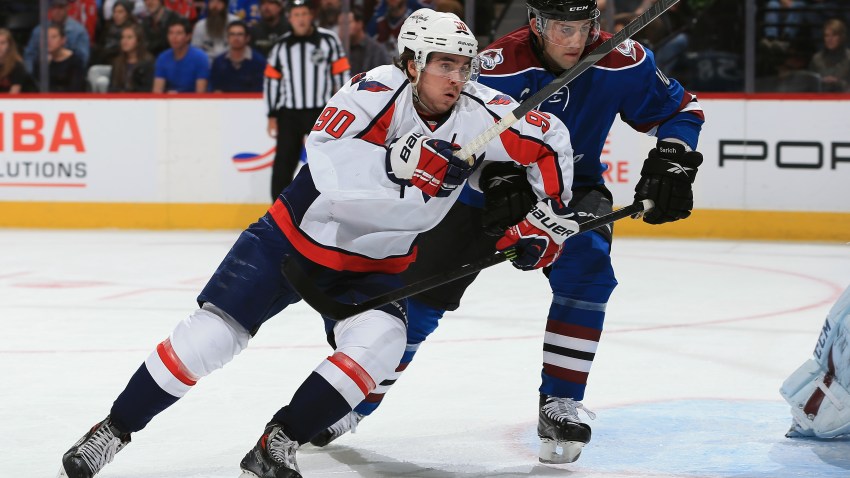 One of the Washington Capitals' potential second-line center options is out of the four-player race as forward Marcus Johansson will start the season as a winger, according to coach Barry Trotz.
"Marcus was going to play the wall [Wednesday against the Buffalo Sabres], he's going to start the season on the wall," Trotz said. "Just because we don't have a lot of centermen right now, he's going to play the middle tonight, but he's going to play wing this year."
Johansson spent the past two seasons primarily skating alongside Nicklas Backstrom and Alex Ovechkin on the left side of the first line. Yet the 23-year-old was ineffective offensively despite his plum assignment, scoring five combined goals at 5-on-5. In fact, Johansson became the first forward in NHL history last season to play at least 1,400 minutes and score two or fewer even-strength goals.
It seems that Eric Fehr will join Backstrom and Ovechkin to start the season, while Johansson skated with fourth-line forwards Michael Latta and Chris Brown at the Capitals' most recent practice Tuesday.
Though Johansson is a natural center, he has hardly that position over the past few seasons and, anyway, Trotz believes his skill set is better suited for playing the wing.
"I think with Marcus's speed, he's less in the battle," Trotz said. "With his speed, it will open up things for him. Middle of the ice -- he hadn't played that position -- so maybe he's consciously thinking, 'I gotta play center, I gotta play low, I gotta get low,' but I really think with [Evgeny Kuznetsov] and [Andre] Burakovsky, the way they play center, it will be best for Marcus to go back on the wing.
"But I think it was a good experience for him to be at center, because you never know when you have an injury, you never know where you have to put a player. Like tonight, I don't have enough centermen for back-to-back, so I'm going to put him in the middle. So he's learning every position, it's like Eric Fehr — Eric Fehr got to play left, right, center, so he understands the whole game from every aspect. It's probably helped his game a lot, and it won't hurt Marcus's game."
That leaves rookies Kuznetsov and Burakovsky as well as versatile veteran Brooks Laich as Trotz's remaining choices. Despite the inexperience, Trotz did not seem apprehensive about slotting in two rookie forwards -- one of whom, 19-year-old Burakovsky, is just learning the position -- on his opening-night roster as his second- and third-line centers, respectively.
"They're not just average talent," Trotz said. "They're high-level talent. Both of them are very mature. ... So I don't have a problem with either of them starting, they're both high-level talents.
"The biggest thing is going to be patience, waiting for the young guys to do what they're capable of doing. And I can be patient. I think we've got enough quality people around, good people on the back end as well, the coaching they're getting on a daily basis from the coaches here, they're going to adjust fine. There's veteran savvy, and then there's just good hockey sense, and both those guys are high-level at that. There's going to be the odd 'Oh, he got tricked into that.' But really, in the long run, they're just going to get better and better as they play more and more."
---
Follow Adam on Twitter @AdamVingan and e-mail your story ideas to adamvingan (at) gmail.com.