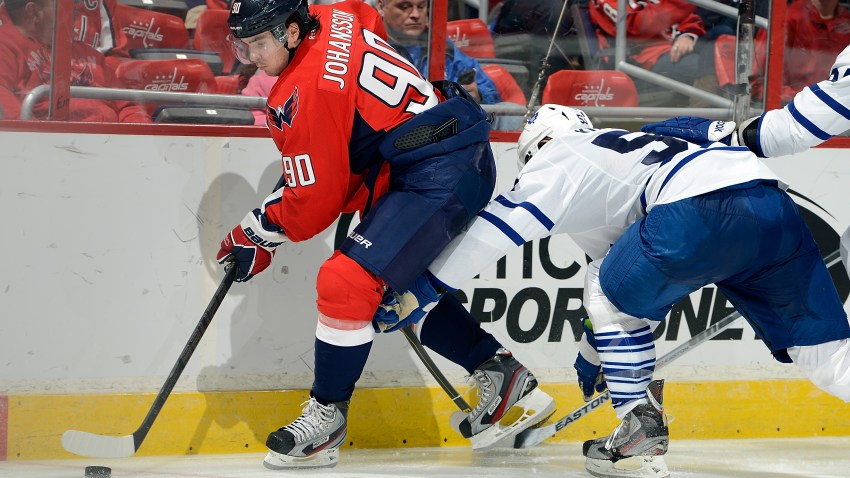 The Washington Capitals re-signed restricted free agent forward Marcus Johansson to a two-year, $4 contract extension Saturday, ensuring that their entire roster will be in attendance when training camp opens Thursday.
"Obviously, they finally got it done, so good," head coach Adam Oates said. "He can focus on starting and getting over here. Obviously, it's best when guys don't miss too much time, so obviously I'm happy about that."
Johansson, who is still in Sweden and was unavailable for comment Saturday, appeared in 34 games for Washington last season, overcoming a concussion suffered during a training camp collision with Alex Ovechkin to finish with six goals and 22 points. Four of his goals and 15 of his 16 assists came between March 17 and the end of the regular season while skating on the top line with Ovechkin and Nicklas Backstrom.
Barring injury, Oates plans to keep those three intact as the Capitals' first line; as a unit, those three were the team's most productive at even strength, and they combined for 31 goals and 48 assists over the final 21 games of the regular season.
"We're deep in the middle, I think," Oates said in regards to keeping Johansson on the left side. "Last year with [Mike Ribeiro] and [Backstrom], we looked for him to play left wing and they had some success, so I'd like to see where that goes."
The 22-year-old was ineligible for arbitration, which, among other things, worked in the Capitals' favor."Bridge contracts" -- intermediate contracts that, as the name suggests, serve as a bridge between a player's entry-level contract and the potential first major payday -- are commonplace in today's NHL, and Johansson's is no different.
He receives a modest raise -- he will earn $1.825 million this season and $2.175 million next season -- but one that is cap-friendly and will motivate him to earn a larger one in two years.
"He's got a great opportunity to start with two great hockey players in a good situation where the coaches like him, the GM likes him,," Oates said. "He's got an opportunity for the next couple years to prove that he can be a dominant player in this league and then you get rewarded if you succeed."
As for the rest of the lineup, Oates mentioned that he sees Brooks Laich, slotted at second-line center by general manager George McPhee earlier this summer before the Capitals signed Mikhail Grabovski to fill that role, as a winger.
That leaves the Capitals with some interesting personnel decisions to make; with Johansson signing, Washington now has $665,705 in available salary cap space and 13 forwards under contract. That does not Include rookie Tom Wilson, who will challenge for a roster spot in training camp and carries a cap hit of $1,294,167.
With an abundance of forwards -- particularly in the bottom six, where five wingers (left wingers Jason Chimera and Aaron Volpatti and right wingers Wilson, Joel Ward and Eric Fehr) will compete for three spots -- and very little cap space, moving out a forward seems like a logical next step.
---
Follow Adam on Twitter @AdamVingan and e-mail your story ideas to adamvingan (at) gmail.com.