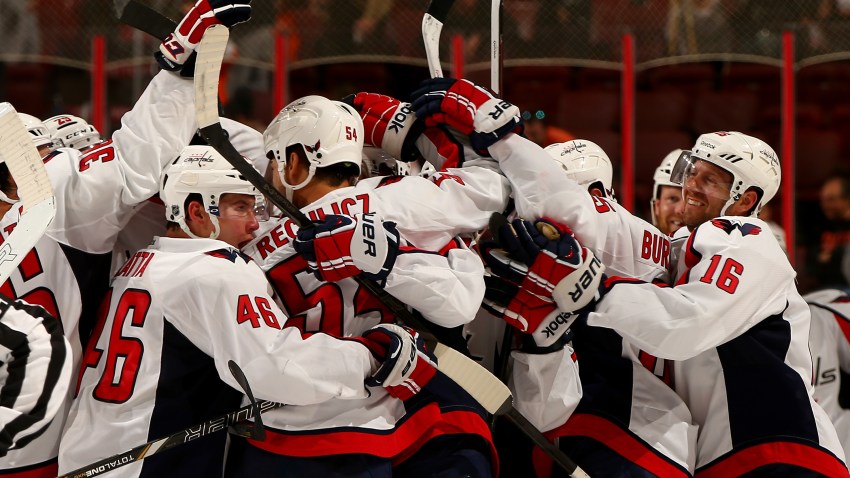 The Washington Capitals who did not participate in Monday's 4-3 shootout victory over the Philadelphia Flyers are in Baltimore Tuesday for the second annual Baltimore Hockey Classic against the Boston Bruins.
The lineup that traveled to Belleville, Ontario, for Saturday's Kraft Hockeyville game against the Winnipeg Jets will play Tuesday, including forwards Alex Ovechkin, Nicklas Backstrom, Marcus Johansson, Troy Brouwer and defensemen Mike Green and Jack Hillen.
Braden Holtby will start in goal for Washington and split time with Philipp Grubauer.
Some news and notes from Tuesday's morning skate:
-- Brooks Laich, who is suffering from a sore left hip flexor, skated at Kettler Capitals Iceplex Tuesday morning. He is listed as "day-to-day." Laich missed all but nine games last season with a lingering groin injury that ultimately required surgery.
"We're obviously hoping it was very minor," head coach Adam Oates said Tuesday. "We're being a little precautious and hopefully today, he cruised around and then tomorrow he can practice."
-- Mikhail Grabovski was finally able to practice with his new teammates in Arlington Tuesday after having his visa issues resolved. The 29-year-old signed a one-year, $3 million contract with the Capitals late last month after being bought out by the Toronto Maple Leafs in early July.
According to Oates, Grabovski will take warmups with the team Tuesday, but will not play. Washington has the day off Wednesday, but Grabovski will skate with the coaches if they are allowed to under CBA guidelines regarding mandated days off.
-- A hot topic of discussion surrounding Tuesday's game is the ice quality at Baltimore Arena. During the inaugural game back in 2011, a myriad of issues led to a slushy playing surface. The general consensus among players who addressed the media was that the ice quality, while not the best, should not be a problem.
"It wasn't very good," Green said. "Got real chippy real quick and almost made these big gouges in the ice that could possibly be a little bit dangerous, but I'm sure they'll fix that up for today."
---
Follow Adam on Twitter @AdamVingan and e-mail your story ideas to adamvingan (at) gmail.com.