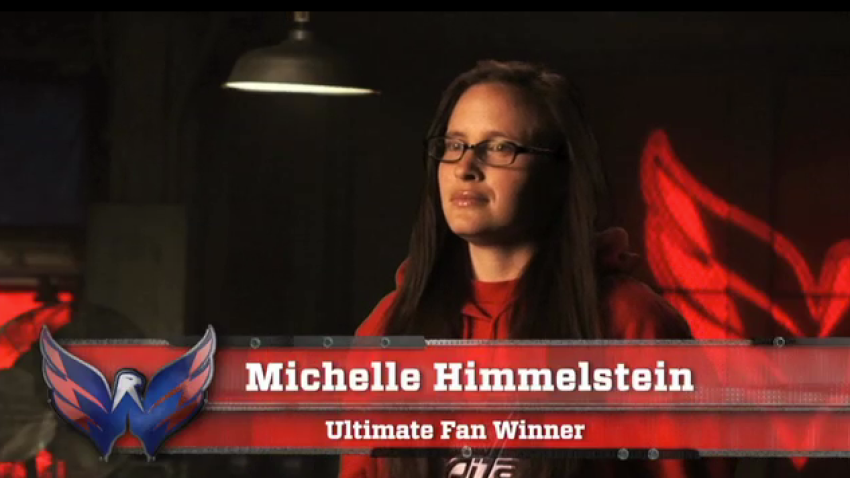 The Washington Captials' in-game introduction video that directly precedes the team skating onto the ice this season features some interactivity. During every game, a mysterious figure cloaked in a red hooded sweatshirt walks through an underground base before revealing themselves by removing the hood. There is a different player for every game, so it provides fans with a little guessing game.
Saturday, Nicklas Backstrom made his long-awaited return from a concussion and received quite the ovation when shown on the video board during warm-ups. It only made sense that when the hood was taken off before the game that Backstrom would be underneath it.
Yet, Backstrom was not under the hood. In fact, no player was under the hood.
That distinction went to 25-year-old Michelle Himmelstein, of Gaithersburg, Md., who was the Caps' "Ultimate Fan Winner" and won the chance to be in the team's opening video.
"I wrote an essay, posted it online," Himmelstein said Saturday. "Didn't proofread it, tons of mistakes. I got people to vote for me, friends and family. I won, shot some footage at Kettler and I was in the video."
While Himmelstein was very excited to be in the video, she understood how people might feel a bit slighted that Backstrom was not under the hoodie.
"I kinda felt bad taking the spotlight away from him, but it was still cool to be under the hood." she said.
Himmelstein was one of many participants in the Caps' "Jerseys Off Our Backs" ceremony after the game, where lucky fans (well, except the fan that received Slapshot's jersey) literally received the game-worn jerseys that the Caps just finished playing in. Each fan was given a sealed envelope with a number inside, but they were not allowed to open it and see what number was inside until right before they were to get the jersey.
Himmelstein hoped that it was Backstrom's jersey in her envelope, but when she opened it, she slid out a large red 29 for Tomas Vokoun. Vokoun, who did not play Saturday and is currently injured, came to the bench and signed Himmelstein's jersey.
Regardless, for one night, a simple red hoodie was as valuable as a game-worn and autographed jersey.
---
Adam Vingan is co-founder and editor of Kings Of Leonsis, a Caps-centric blog, and is the Capitals Editor for SB Nation. Follow him on Twitter @Adam_KOL and e-mail your story ideas to adamvingan (at) gmail.com.