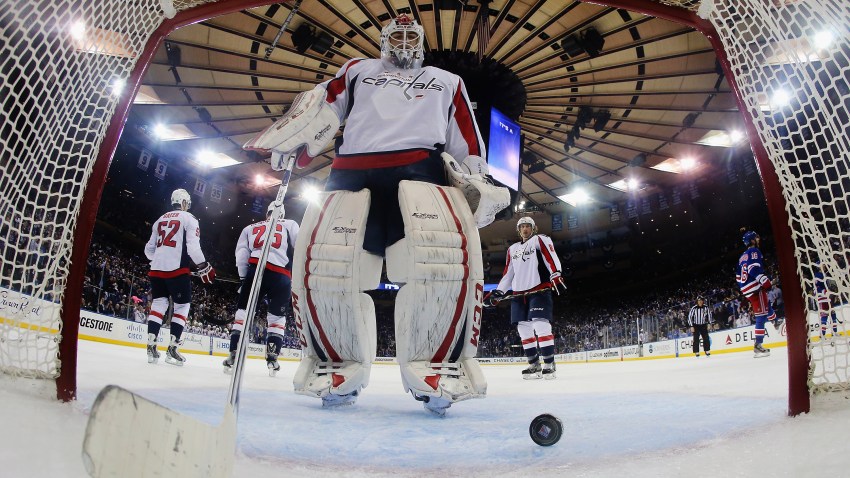 The mood was considerably light at the Capitals' pregame skate at Madison Square Garden Monday morning.
Players laughed, ribbed each other and exuberantly celebrated goals while running through their drills and line rushes, certainly looking like a bunch that had a 2-0 lead in a best-of-seven series.
But from his unique vantage point at the end of the ice surface, goaltender Braden Holtby, who serves as the team's conscience and the liaison between the locker room and the outside world, felt things were too light.
"I'm not sure we want it as loose as this morning," he said. "It's still playoff time and you never want to get comfortable. When you're starting to get loose, you can tell guys are starting to get comfortable and whatnot. Just because we're up, it doesn't make it any easier on us."
Holtby's worries came to fruition several hours later. With a prime chance to take a 3-0 series lead for the first time in franchise history, the Capitals failed, apparently leaving their composure behind in Washington as penalty troubles -- not to mention a hard-charging and desperate Rangers team -- never afforded them the opportunity to truly seize momentum in a 4-3 loss.
"That game was far from our best," Holtby said. "We weren't as tight as we should be. That happens."
As Rangers Coach John Tortorella explained Monday morning, "playoff series are momentums within a game." In that regard, the Capitals -- minus the second half of the second period after they halted their parade to the penalty box -- were never really in control.
The six penalty-killing situations that the Capitals faced within the first 27 minutes were the most in almost two months, and their offensive stars -- Alex Ovechkin, in particular -- grew cold on the bench as the amount of shorthanded time piled up and the Rangers' dormant power play awakened, finally scoring a goal and firing more shots on Holtby (11) than in the first two games of the series combined (10).
Despite all of that, the Capitals remained in a position to win the game. Defenseman Mike Green's goal with less than three minutes left in the second period tied the game at 2-2 and carried momentum into Washington's locker room, but the two teams traded goals in the third period. Forwards Arron Asham and Derek Stepan's goals sandwiched forward Jay Beagle's goal to give New York a 4-3 lead with 6:25 remaining.
"Every time we fought back, we got a good start, we got the lead and it seemed like we were fighting back, fighting back and then they get something," said defenseman Jack Hillen, who assisted on Beagle's tally. "Tough game. Just a lot of swings in momentum."
The only penalty taken in the third period -- forward Brad Richards slashed Ovechkin at center ice as the Capitals captain bum rushed the offensive zone -- gave the league's top-ranked power play unit a 6-on-4 with about 90 seconds left, but it couldn't muster even one shot on goal.
Washington was "a little too cute with it," according to Coach Adam Oates, and as the Rangers convened at center ice to salute their fans at Madison Square Garden, the Capitals dejectedly left the ice rueing a missed opportunity and wondering what could have been.
"We'll regroup here tonight," Green said. "It's obviously disappointing, but that's why it's seven games. It's unfortunate. We obviously wanted to be up three, but we've got a lot of work to do, and we know that. We knew it wasn't going to be easy."
---
Follow Adam on Twitter @AdamVingan and e-mail your story ideas to adamvingan (at) gmail.com.