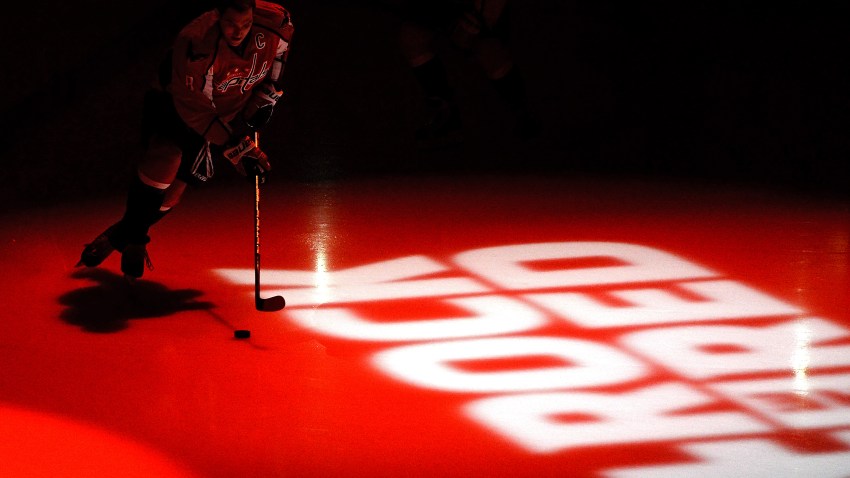 Welcome back to "Capital Letters," a poorly planned mailbag where I answer any and all questions relating to the local professional hockey team.
I hope that you and yours had joyous Christmases filled with cheer and turducken. Mine was filled with steamed dumplings and Sinbad. To your questions.
@AdamVingan who do you think is the best Capitals prospect? — Sweedish Meatballs (@SMBHockey) December 24, 2013
The talking meatball (Meatwad?) asks a good question. The Capitals do have several prospects with high-end potential, though most of them are currently outside of the organization (Europe, juniors, college). I am no talent scout, but based on what I have gleaned and seen with my own four eyes, here is how I would shake down Washington's prospects by position.
Goaltender
Philipp Grubauer
???
Take the hint.
As you have recently seen, Grubauer is an incredibly talented 22-year-old with upside galore. Since being recalled by the Capitals on Nov. 30, he has compiled a 4-1-1 record along with a 2.20 goals against average and .934 save percentage while starting five of Washington's last eight games. Grubauer's impressive play has essentially forced the Capitals to carry three goaltenders, leaving some to wonder aloud if Braden Holtby's tenure as No. 1 is coming to an end (it is not) and if Michal Neuvirth's days here are numbered (they are).
After that, pickings are slim. I am not going to waste your time or mine attempting to paint either Brandon Anderson or Sergey Kostenko as players that you should be excited about.
Defense
Nate Schmidt
Connor Carrick
Madison Bowey
We in Washington had an opportunity to watch both Schmidt and Carrick at different points this season. Carrick was the surprise of training camp, earning an entry-level contract and a spot on the opening-night roster, while Schmidt, recently reassigned to the Hershey Bears, handled top-four responsibility admirably in 28 games with the Capitals.
I was very impressed with Schmidt (and he may be the smiliest human being I have ever met) as he stepped into the NHL fairly seamlessly. His ability to make a strong first pass endeared himself to Coach Adam Oates and he has plenty of offensive upside.
As for Carrick, he is currently representing the United States in the World Junior Championships, where his mobility and puck-moving acumen should play an integral in their (our?) gold-medal defense. The sheer speed and size of the NHL I believe overwhelmed the 19-year-old Carrick, but his poise should serve him well when his time comes.
Bowey was the Capitals' second-round pick this past summer. Playing with the Western Hockey League's Kelowna Rockets (a team that has developed NHL defensemen like Shea Weber, Josh Gorges, Tyler Myers and Luke Schenn), Bowey is a big-bodied defenseman who, like the aforementioned Carrick and Schmidt, is capable of generating offense from the back end. From reading scouting reports, the consensus seems to be that once Bowey rounds out his game on the defensive end, he will become a steady presence on whatever blue line he patrols.
Forwards
Andre Burakovsky
Riley Barber
Evgeny Kuznetsov
Burakovsky has been rocking and/or rolling with the Ontario League's Erie Otters, scoring 23 goals and assisting on 24 others in 31 games while playing on the Otters' first line with Connor McDavid, who has the potential to be the top overall pick in the 2014 NHL Draft. Watching Burakovsky during Washington's summer camps, he regularly danced around defenders with aplomb and did not seem afraid to shoot the puck. With some seasoning, the Swede could very well become a force to be reckoned with at the NHL level.
I am most intrigued, however, by Barber, who by all indications has become one of the best collegiate players in the nation. A sixth-round pick in 2012, Barber is "a very skilled offensive player, with above-average speed and finishing skills, and he also plays a quality two-way game" according to ESPN's Corey Pronman. He was recently named the captain of the U.S. World Junior team, which says all you need to know about how highly he is thought of.
And then there is Kuznetsov. I will address him in another question, so do me a favor and scroll down slightly.
@AdamVingan How do you see the top 2 lines shaking out once Kuznetsov arrives in March/April? — Don Carnevale (@dcarnevale44) December 24, 2013
Thank you for scrolling. I would also like to thank Don for his question, but I am not going to answer it. Instead, I am going to go off on a little tangent. I think he will understand.
Look, Capitals fans have longed for Kuznetsov's impending arrival for years. Ever since Washington drafted Kuznetsov with the 26th overall pick in the 2010 NHL Draft (and especially after his 2012 World Juniors performance, particularly his nine-point game in Russia's 14-0 shellacking of Latvia), he was romanticized as the next savior of the franchise.
We parsed the words of every Russian-language interview Kuznetsov or others conducted about his desire to play in the NHL and his intention to join the Capitals as soon as feasibly possible, salivating at the thought of him lining up alongside Alex Ovechkin and Nicklas Backstrom. Yet he remained in Russia, where the allure of a larger contract in the KHL and representing Russia at the 2014 Sochi Games were too tantalizing to pass up.
Now over three years removed from being drafted, Kuznetsov has seven goals and 14 points in 23 games this season with Traktor, is injury-prone, was left off the league's All-Star roster and is in serious danger of not making the Russian Olympic roster, which was essentially the ENTIRE REASON he remained in Europe. I apologize for shouting.
The question I have (and have had for a while) is this: What if Kuznetsov is not that good?
The shine has come off, at least to me. I am not convinced that if and when he arrives in the NHL that he will be some sort of transformative talent. I will not go as far as labeling him a "bust," but I cannot imagine him setting the NHL on fire. And where would that leave the short-term trajectory of a franchise that desperately needs an infusion of fresh, high-end forward talent?
As you can see, there are way more questions than answers surrounding Kuznetsov. He is no Anton Gustafsson, but he is treading dangerously close. I will believe it when I see it. In the mean time, as Oates recently said to describe Brooks Laich's recovery from his latest groin injury, do not tease us.
@AdamVingan why does the Caps 5v5 suck so bad? — William Utley (@BillUtley) December 24, 2013
William's eloquent question requires a eloquent answer, so calling the Capitals the suckiest bunch of sucks that ever sucked at even strength will not work.
But yes, Washington has struggled at 5-on-5 play all season. Here is the advanced statistical proof (glossary of terms here):
Fenwick percentage, score close: 45.9% (27th)
Fenwick percentage, score tied: 45.0% (26th)
Fenwick percentage, overall: 46.9% (26th)
That is bad. It does not come with a free frogurt, which is also bad.
So what gives? You see it during every game. The Capitals cannot cleanly break out of their own zone, nor can they regularly pin down an opponent with sustained pressure in the offensive zone. Both allow their opponents to fire a ton of shots on net (33.1 at even-strength/60, fourth-most) and even though their even-strength save percentage (92.3%) hovers around the middle of the pack, all of it makes for a toxic mixture, or a losing formula if you prefer.
Washington sits in second place in the Metropolitan Division -- which would guarantee a playoff spot -- at the Christmas break as a result of Ovechkin's torrid start and the strength of its power play. The Capitals will likely qualify for the postseason based on those factors alone, but if even-strength play continues to be a weakness, then they will not go far. Again.
---
Follow Adam on Twitter @AdamVingan and e-mail your story ideas to adamvingan (at) gmail.com.