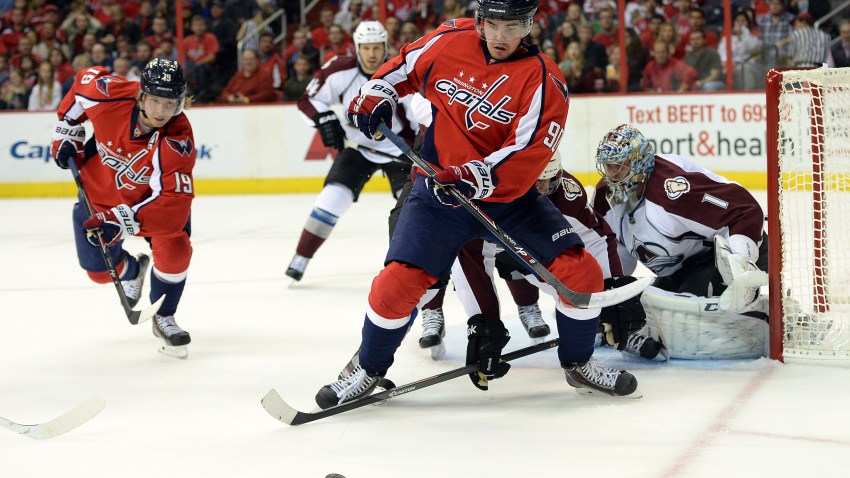 Welcome back to "Capital Letters," where I do my darndest to answer any and all questions relating to the local professional hockey team.
The Capitals are currently gallivanting through Western Canada. I am not. Your questions.
@AdamVingan Q: Do you see the top line being moved on the left side in the future? Mojo seems to pass way more than he should? #Mahalo — CapsYapp (@CapsYapp) October 23, 2013
Capital Games
Capital Games is your source for all Washington-area sports.
The Capitals' current first line of Marcus Johansson, Nicklas Backstrom and Alex Ovechkin has been together since March 17. Between that game -- a 5-3 victory over the Sabres -- and the end of the "2012"-13 regular season, that trio combined for 31 goals and 48 assists, four and 15 of which were earned by Johansson, respectively.
Yet for the most part, the Swede -- the younger, less cherubic-looking one -- did not receive much credit for his contributions, instead being characterized as a passenger, simply reaping the rewards of Ovechkin's rejuvenation and a cushy assignment riding shotgun with the team's offensive catalysts.
The first seven games of this season did not do much to dispel those thoughts. Johansson entered Saturday's game against the Blue Jackets with just three shots on goal. Now, Johansson will be the first to admit that he is a pass-first player -- he is second behind only Backstrom with eight assists this season -- and when you are playing with the likes of Backstrom and Ovechkin, it would be easy to give up the puck and let them do the work.
In fact, since entering the NHL in 2010, only four players have had more games in which they have earned at least one assist while not registering a single shot on goal than Johansson (all credit goes to Becca of Japers' Rink for finding that nugget).
The coaching staff has addressed Johansson's pass-happiness.
"As much as he looks for Backy and looks for Ovi, he has to play," Adam Oates said before the team departed for Winnipeg. "He has to play his game and that's what I talk to him about. I don't want him making mistakes in the neutral zone because he's so trying to get it to Backy all the time if the play is get it in."
And wouldn't you know it, Johansson has been much more assertive in his last two games, shooting the puck on net seven times, 10 times if you count missed/blocked attempts (he doubled his season shot total from three to six in the first period of Saturday's game).
Johansson's greatest assets are his speed and puck-handling ability. If he is not putting pucks behind opposing goaltenders, then he should at least use his wheels to carry the puck into the zone and back up defenders, therefore leaving more room for his linemates to do so. He seems to be doing an average job driving play through the first three weeks of the season (though the team is average at even strength in that department as a whole from my novice understanding of advanced metrics, worse when the score is close). He will probably come up on the short end of a board battle more often than not -- that is, when he goes into the corners -- but those aforementioned talents, at least in theory, are what he adds to Washington's top line. Then again, in theory, communism works, too.
In my personal opinion, I look at this set-up for Ovechkin by Backstrom from one of the many meetings between the Capitals and Hurricanes last season as the prototype for how Johansson could earn his keep on the top line.
Bring the puck into the zone, drive the defender back with speed to create a lane for Ovechkin to shoot and end up on the receiving end of a bear hug from an exuberant Russian.
To finally answer the question about whether I see another left-hander receiving time on the first line, of course I do (I would prefer to see Martin Erat, who is stronger along the boards and less susceptible to being pushed off the puck than Johansson, get some first-line love, personally), but I think Johansson is there to stay for now.
@AdamVingan Do you see Grabo as 3C for a long time or more as an experiment? Think Laichs north-south play would do well as 3C and Grabo 2C. — Yngve Husdal (@YngveHusdal) October 23, 2013
Last week, Oates, who was being remarkably patient considering his team's offensive struggles, finally gave in to our insatiable desires for change, shuffling around his forward lines, most notably releasing Erat from his personal fourth-line hell and placing him on the second line. To accommodate such a move, Oates slid Brooks Laich over to second-line center and dropped Mikhail Grabovski to third-line center. All of a sudden, #FreeErat became #FreeGrabo and we found something else to complain about.
When asked about his line changes, Oates said that "[a] couple guys weren't playing good enough for the minutes they're getting," and since the only three players that were "demoted" were Grabovski, Eric Fehr (from third-line center to fourth-line center) and Jay Beagle (from fourth-line center to having the displeasure of watching the game in my general vicinity), it would seem that Oates was not pleased with Grabovski's play.
But when pressed about Grabovski specifically, he said this:
"I moved Grabo back just because I think maybe it's been a lot – the system – for him where everybody [else] has had a year under it. I think a couple of mistakes were based on that."
Either way you look at it, Grabovski is now centering Jason Chimera and Joel Ward for the time being. To their credit, in a game that featured more brutal breakdowns than a Myspace screamo band. those three did a great job setting up shop in the Jets' zone during Tuesday's 5-4 shootout victory, the most obvious example being Grabovski's goal that opened the second-period floodgates.
The third line has been Washington's best this season at generating offensive zone time through establishing a cycle game regardless of who is centering it, which speaks to the underappreciated work that Chimera and Ward have been doing.
As for those of you having flashbacks to Grabovski's final season in Toronto where he was underutilized/misused by coach Randy Carlyle, slow your roll. Oates is not trying to turn Grabovski into a checker (which he was not half bad at, by the way), but simply looking for that "spark" he talks about so much.
In regards to Laich, he admitted last week that he mentally approaches the game as a center, even when playing wing, so transitioning back to the middle is no sweat for him. If you remember, Chimera, Laich and Ward found success as a third line during the early portion of the 2011-12 season, so perhaps reuniting at some point will feel so good.
My gut tells me that it probably will shake down that way eventually, but my gut tells me a lot of things, like when to eat, for example.
@AdamVingan are we sure the Caps D corps made the trip to Winnipeg last night? I'll hang up and listen. — Don (@DRank27) October 23, 2013
Yes, Tuesday's win over the Jets is not going to be one that the defense -- or the entire team, for that matter -- will want to remember. As Troy Brouwer told reporters following the game, "we'll take the two points, but we really don't want to take anything else out of it."
The 47 shots that the Capitals allowed Tuesday were not only a career-high for Braden Holtby, but also the most that they have allowed in just over six years. One of the talking points after the game was the lively Canadian boards, which, when combined with the defensive corps' propensity to pinch, led to countless odd-man rushes.
That, however, does not excuse Mike Green, who had one of his worst games in recent memory. His...whatever the hell this was...led to Winnipeg's shorthanded goal and he was caught out of position and flat-footed on Bryan Little's second goal that tied the game in the third period. Let's be real: if Dustin Byfuglien is getting around you with relative ease, it is not your night.
As for the rest of the defensemen, their evenings were also forgettable, minus John Erskine's snazzy sliding block to break up a 3-on-1 opportunity midway through the second period. Other than that, I suppose the defense's newfound meanness did not clear customs.
Anyway, back to Green. Oates had apparently seen enough of him as No. 52 saw only one shift following Little's third-period marker, sitting out for the remaining 9:25 of regulation and all of overtime. I will say, it takes some testicular fortitude to bench your most relied-upon and offensively-inclined defenseman during crunch time of a freewheeling game.
Oates, however, called Green's effort "a minor hiccup." Minus earning the two points, the Capitals are probably all chalking it up to that and moving on.
---
Follow Adam on Twitter @AdamVingan and e-mail your story ideas to adamvingan (at) gmail.com.