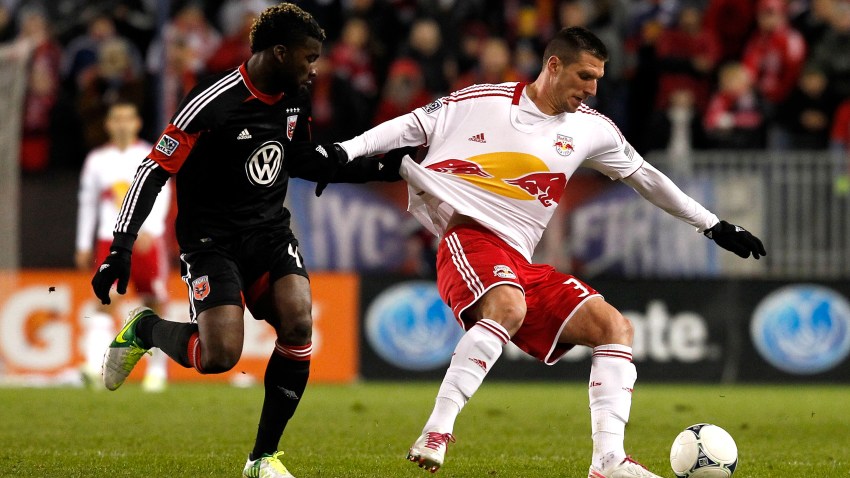 Nick DeLeon scored in the 88th minute and D.C. United overcame the ejection of starting goalkeeper Bill Hamid as they advanced to the Eastern Conference Final in a 2-1 aggregate win over the New York Red Bulls.
New York dominated possession in the second half, but it was DeLeon's low shot to the bottom right corner that sent United to their first conference final since 2006.
Capital Games
Capital Games is your source for all Washington-area sports.
DeLeon's goal ultimately decided the game, but a crazy sequence in the 69th minute will be the most-talked part of the game. Try to keep up. Emphasis on "keep."
So, goalkeeper Bill Hamid received a red card for tackling Kenny Cooper in the penalty area...
...a penalty that he obviously did not agree with, judging by his tweet sent out shortly after leaving the pitch.
Great leap.. GREAT LEAP.. He jumped right over me.. Hey Kyle martini please please please see your optometrist tmrw.. — Bill Hamid (@BillHamid28) November 9, 2012
Anyways, Cooper scored on the penalty kick to seemingly give New York a 1-0 lead, but the official forced him to retake it because of encroachment. Cooper wasn't as fortunate the second time as Hamid's replacement, Joe Willis, stopped the shot.
United will now face the Houston Dynamo in the Eastern Conference Final. The first leg will be Sunday in Houston, while United will host the second leg Nov. 18 at RFK Stadium.
---
Follow Adam on Twitter @AdamVingan and e-mail your story ideas to adamvingan (at) gmail.com.