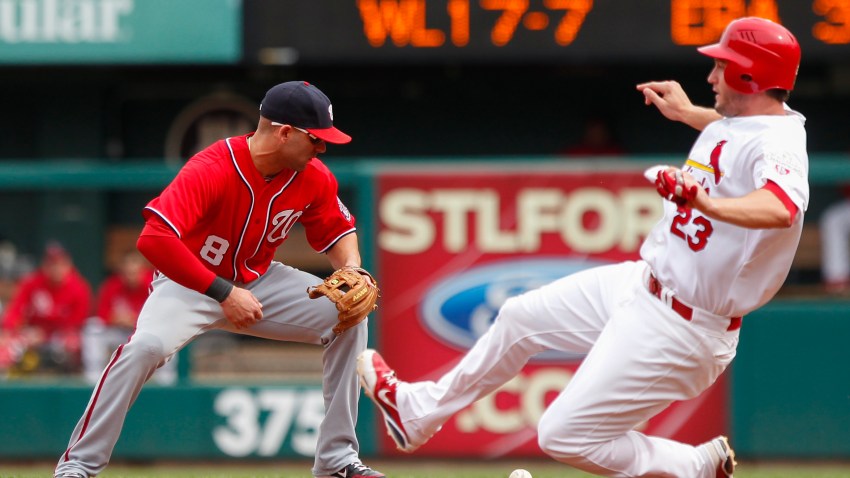 The Washington Nationals will face the defending World Series champion St. Louis Cardinals in the National League Division Series. Game 1 is Sunday afternoon at Busch Stadium.
St. Louis defeated the Atlanta Braves 6-3 Friday in the NL Wild Card matchup. The Cardinals' victory snapped the Braves' 23-game winning streak when Kris Medlen starts, a Major-League record that stretched back to 2010.
The Nationals faced the Cardinals seven times during the regular season, winning four of the games, but lost two of three in St. Louis Sept. 28-30 by a combined score of 26-12. Gio Gonzalez will start for Washington Sunday.
Capital Games
Capital Games is your source for all Washington-area sports.
The schedule for the series is below. Games 1 and 2 will be in St. Louis before the series shifts to Nationals Park Wednesday for Games 3-5. All games will be broadcast on TBS.
Game 1: Sunday, Oct. 7 - 3:07 p.m. ET
Game 2: Monday, Oct. 8 - 4:37 p.m. ET
Game 3: Wednesday, Oct. 10 - TBA
Game 4 (if necessary): Thursday, Oct. 11 - TBA
Game 5 (if necessary): Friday, Oct. 12 - TBA
---
Follow Adam on Twitter @AdamVingan and e-mail your story ideas to adamvingan (at) gmail.com.