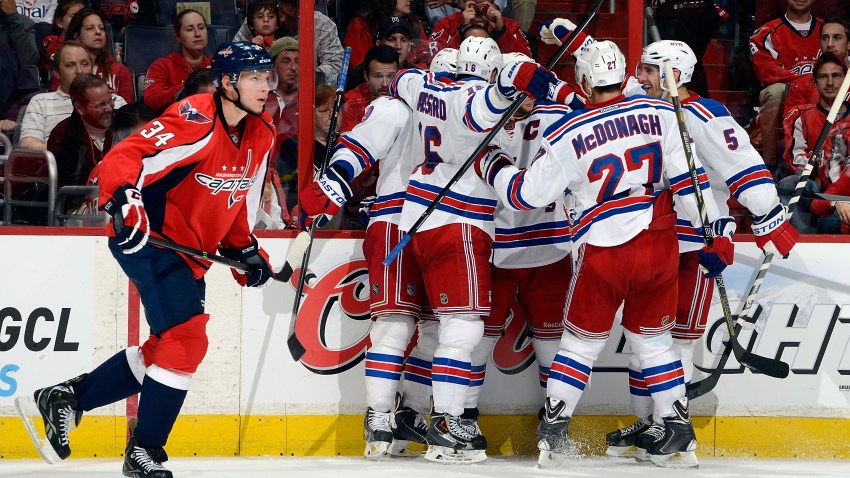 The Washington Capitals' 2-5-0 record illustrates where they are as a team through the first two weeks of the season, and the second period of Wednesday's 2-0 loss to the New York Rangers perfectly encapsulated the issues that have been affecting them.
Most of those issues stem from the defensive zone, where failed clearing attempts, sloppy breakout passes that lead to turnovers and missed assignments have prevented the Capitals from gaining any sort of forward momentum.
"Defensively, it's like a fire drill in there," defenseman Karl Alzner said. "We're not doing a good enough job at our system, what we're supposed to do. And when we don't, we're leaving a guy in front, we're getting beat out of the corner. It's been bad in the D-zone. It's been frustrating."
Capital Games
Capital Games is your source for all Washington-area sports.
To put it bluntly, the Rangers thoroughly dominated the Capitals in the middle frame, simply outworking them and registering 21 shots on Braden Holtby, one less than the Capitals -- who had six shots in the period, the last one coming with 9:12 remaining -- had for the entire game.
Between the 2:11 and 7:36 mark of the period, New York fired 15 unanswered shot attempts in Holtby's direction. That period of time coincides with two lengthy New York stints in Washington's defensive zone.
The first wave kept the Capitals' first line of Marcus Johansson, Nicklas Backstrom and Alex Ovechkin on the ice for around 100 seconds and defensemen Mike Green and Nate Schmidt for over two minutes before s save by Holtby on Brad Richards off an offensive zone turnover led into a television timeout.
Once play resumed, the Capitals' second line lost the defensive zone draw and the Rangers, the NHL's weakest puck-possession team entering the game according to advanced metrics, pinned them down once again, outhustling them to every loose puck and seemingly winning every battle along the boards. Once Washington was finally able to change, the five-man unit of Brooks Laich, Mikhail Grabovski, Troy Brouwer, Alexander Urbom and John Carlson had spent 1:16 in their own zone.
"They outworked us," Alzner said. "We got caught up there for minute-plus shifts. That's hard. It doesn't have to always be clean. It just has to be out. If it doesn't get out, you spend a minute and a half in your zone."
To their credit, or perhaps out of pure luck, the Capitals were able to keep the game scoreless despite their defensive zone struggles. Yet once the Rangers were able to, for lack of a better word, capitalize on their opponent's mistakes, the listless Capitals were powerless to stop them.
John Moore's goal capped off a 46-second shift spent entirely in Washington's zone, while Ryan Callahan's tally less than two minutes was simply the result of hard work, winning a puck battle over John Carlson and then outhustling him to the front of the net for his third goal of the season (Backstrom could not push Derick Brassard off the puck behind the goal either, which allowed Richards to corral the puck with enough room as Urbom left him plenty of space to make the primary assist).
This should come as no surprise, but four of the five men in red had been on the ice for 1:19.
"We've got take care of our own end better," coach Adam Oates said. "Obviously, we want to score and we want to get down the ice, but until we cross [the defensive] blue line we can't."
It is no secret that the Capitals employ some of the more skilled players in the NHL, with the likes of Ovechkin, Backstrom and Green capable of making things happen on natural talent alone. Yet it seems that they are relying too heavily on that skill to get out of the zone instead of making the simple play.
Case in point: According to Oates, one of the Capitals' designed clearing plays is a high flip into the neutral zone, but they did attempt to use it Wednesday. Meanwhile, the Rangers successfully cleared the zone in that fashion on multiple occasions.
"You've got to get it out first," Oates said. "You can't be pretty. The ice is lousy and you've got get it out."
Said Alzner: "We want to have possession, we want to be an offensive team, we have a lot of firepower, but we're focusing a little bit too much on the offense I think sometimes and we forget about getting out of our zone first. What's the old cliché? Defense wins championships? Right now, we're trying to win with just offense."
---
Follow Adam on Twitter @AdamVingan and e-mail your story ideas to adamvingan (at) gmail.com.