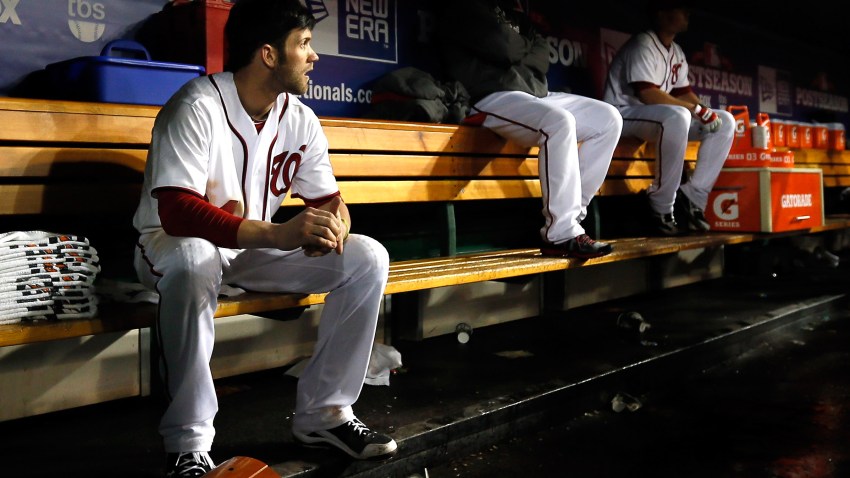 There are just over two weeks left in 2012, so it's that time of year again: Time to appreciate our family and friends, celebrate the holiday season, and judge, judge, judge.
As humans, being critical is ingrained in our DNA. It's like that Dane Cook bit about going to the movies (I apologize for mentioning Dane Cook in 2012. I bet he was on a lot of year-end lists in 2006): December affords us the opportunity to channel our inner Richard Blackwell, Siskel or that other guy by looking back at our favorite movies, TV shows, internet memes and cute dog videos -- among other things -- and forming unwavering (and often ridiculous) opinions about them.
This is a sports blog -- a D.C. sports blog -- which means that the year-end lists here are going to be about, you guessed it, New York D.C. sports. Throughout this week, I will share with you several lists regarding a variety of categories. I don't want to spoil them for you, but they totally reek of awesomeness.
Capital Games
Capital Games is your source for all Washington-area sports.
That is exactly why I wanted to kick off my year-end lists with the six things that totally didn't reek of awesomeness in D.C. sports this year. Get the bad out of the way first, right? It's also Monday, so you're probably upset already.
(Dis)honorable mention: The second half of D.C. United's Eastern Conference Final first leg loss to the Houston Dynamo
In the first round of the MLS Cup Playoffs, D.C. United defeated the New York Red Bulls (and a freak Nor'easter) to advance to the conference final against Houston. During the first leg in Houston, United jumped out to a 1-0 halftime lead, but Dynamo responded by scoring three unanswered goals in the second half to take a commanding aggregate lead.
All Dynamo had to do in the second leg at RFK was not lose by three or more. The two teams played to a draw and United was eliminated.
5. The entire 2012 portion of the Wizards' 2012-13 season up to this point (and probably the 2012 portion of the 2011-12 season)
C'mon, that was a chip shot. Or is it "cheap shot"? Probably both.
4. The first quarter of the Redskins' 31-28 loss to the St. Louis Rams in Week 2
After an impressive and perhaps surprising victory over the New Orleans Saints in Week 1, the Redskins faced the Rams the following week and lost two of their defensive starters within the first 15 minutes.
On the Rams' second offensive play, Adam Carriker suffered a quad tendon tear that cost him his entire 2012 season. Brian Orakpo also injured himself in the first quarter, tearing his left pectoral muscle. Orakpo attempted to return later in the game, but did not stay for long.
The Redskins' defense has been ravaged by injury/suspension this season, but has held up admirably despite missing several key starters. Still, losing your best pass rusher and an upstart defensive end is never a good thing.
3. Victor Cruz's 77-yard touchdown catch against the Redskins with 1:13 remaining in Week 7
The Redskins paid a visit to the Meadowlands in Robert Griffin III's first-ever NFL division game. Yet, RGIII, as he has all season long, looked like he had been there before, completing a 30-yard touchdown pass to Santana Moss with 1:32 left in the fourth quarter to give Washington a 23-20 lead.
It took only 19 seconds for the good times to stop rolling. Eli Manning, the master of the fourth-quarter comeback, found a streaking Victor Cruz in stride for a 77-yard touchdown pass that lifted the Giants to a 27-23 victory.
This loss means more now than it did when it actually happened two months ago. The Redskins are currently in a three-way tie with the Giants and Dallas Cowboys for first in the NFC East, but if they would have won in Week 7 (and the rest of the schedule played out as it has), they would currently have a one-game lead in the division with two games left.
If Washington misses out on its first postseason appearance in five years, this might be the moment that disgruntled fans look back to.
2. Joel Ward's high-sticking double minor penalty in Game 5 of the Eastern Conference Semifinals
The Eastern Conference Semifinal series between the Washington Capitals and New York Rangers was tied at 2-2 entering Game 5 May 7, but the Caps led the game 2-1 with less than one minute remaining and heading back to Verizon Center for a potential series-clinching game seemed inevitable.
Yet, the Caps snatched defeat from the jaws of victory when Joel Ward caught Carl Hagelin in the jaw with a high stick, drawing blood and giving the Rangers a four-minute power play with 21.3 seconds left.
On the first half of the ensuing power play, Brad Richards tied the game with 6.6 seconds remaining in regulation and Marc Staal won the game in overtime during the second half just 1:35 into the extra session to give New York an improbable 3-2 win in the game and 3-2 lead in the series.
Washington rebounded in Game 6 before ultimately falling in Game 7 at Madison Square Garden five days after Ward's penalty.
1. Everything after the third inning in Game 5 of the NLDS
Excuse me for a second.
(Screams numerous obscenties into a paper bag, hyperventilates in between curse words)
It's been nearly three months since the Nationals suffered the biggest collapse in a winner-take-all game in MLB postseason history, but this one still stings. If you are pregnant, suffer from any sort of heart condition or simply have a weak constitution, I suggest you do not click the "Play" button in the upper-left corner of the video above.
Check back tomorrow for the next list. I promise it's much happier.
---
Follow Adam on Twitter @AdamVingan and e-mail your story ideas to adamvingan (at) gmail.com.