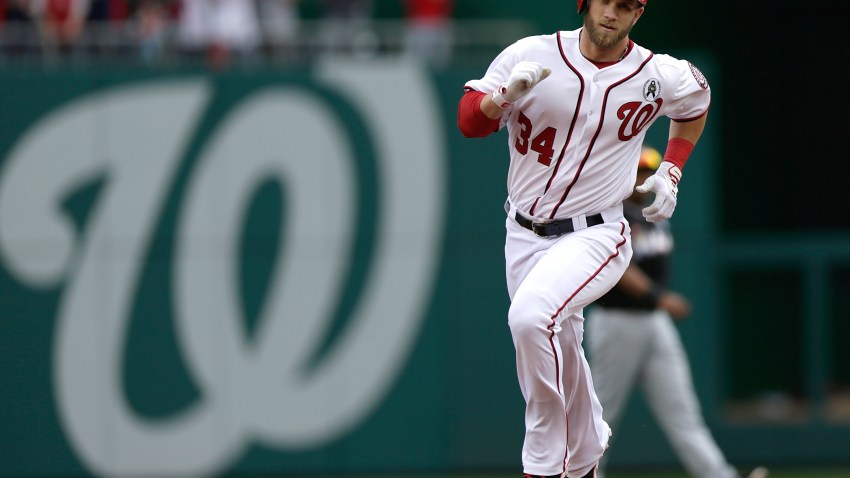 If the Nationals are to reach the expectations levied upon them -- that's World Series or bust -- then they will need Bryce Harper and Stephen Strasburg to lead the way. That being said, if their respective Opening Day performances are any indication, then that won't be an issue.
Harper's two home runs and Strasburg's dominant pitching carried Washington to a 2-0 season-opening victory over the Miami Marlins at Nationals Park Monday.
The 20-year-old reigning National League Rookie of the Year belted solo shots to right field in the first and fourth innings, giving him his third-career multi-homer game. Per Elias Sports Bureau, Harper is the first player in Nationals/Expos history to hit home runs in his first two at-bats of the season.
Harper also prevented a run with his cannon of an arm, stopping Giancarlo Stanton in his tracks at third base after catching a Rob Brantly fly ball. Stanton was ultimately tagged out at home plate to preserve the Nationals' 2-0 lead in the top of the seventh.
Meanwhile, Strasburg matched his career-high with seven innings pitched, allowing just three hits on 80 pitches, striking out three and retiring 19 straight batters. Tyler Clippard and Rafael Soriano closed out Washington's first victory of the season.
---
Follow Adam on Twitter @AdamVingan and e-mail your story ideas to adamvingan (at) gmail.com.