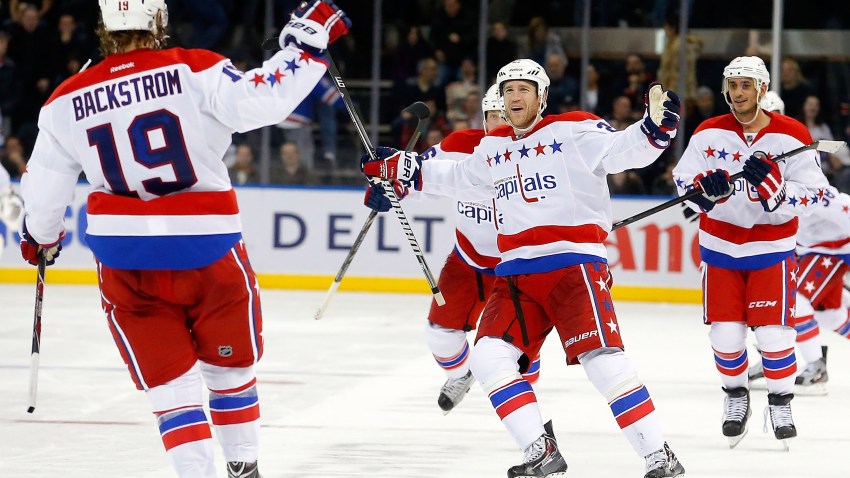 Throughout their first-round series against the Capitals, the Rangers have gradually returned to full strength as forward Brian Boyle and defenseman Marc Staal have returned from stints on the injured reserve list, while forward Ryane Clowe could do the same Wednesday in Game 4.
But the Capitals received one encouraging health-related sign of their own Wednesday morning when forward Brooks Laich joined his teammates on the ice at Madison Square Garden.
Coach Adam Oates said that the 29-year-old is "still a little ways away" from returning to the lineup. He missed all but nine games this season with a lingering groin injury and hasn't played since April 4.
"Unsure right now," Laich said when asked for a timetable for his return. "I've got to get some good practices in first and absorb a little contact. But the team's playing very well right now, so I don't feel the need to rush it and certainly when I get back in I want to stay in, so when I'm healthy, I'll be back in, but for a certain timeline, I can't give you one right now.
"If I can help the team, I'll play, but I don't feel like I'm at that point where I can physically help yet."
According to Laich, he set a self-imposed deadline to rejoin the lineup at some point during Washington's series against New York but said that "it doesn't look like [he's] going to hit it." Last month, general manager George McPhee indicated that the second round of the Stanley Cup Playoffs could be a reasonable return date, assuming that the Capitals advance that far.
As for a skating schedule, Laich said that he will take things "day-by-day."
More importantly, Laich said Wednesday that he never had a sports hernia or sports hernia surgery as had been reported by both The Washington Post and The Washington Times late last month. When pressed for details, Laich did not deny that he had some sort of surgery -- just not sports hernia surgery -- but refused to go into any more detail.
Laich said he would address his health at the end of the season.
---
Follow Adam on Twitter @AdamVingan and e-mail your story ideas to adamvingan (at) gmail.com.