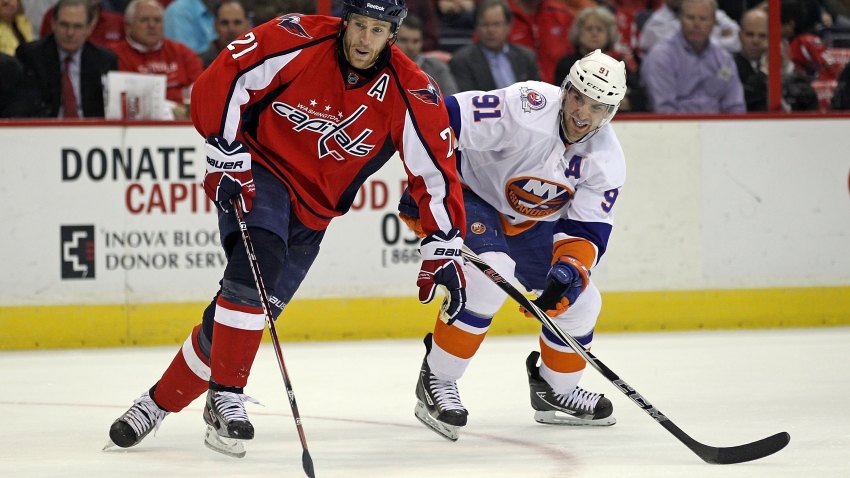 Much like their football counterparts, EA Sports' "NHL 13" will allow fans worldwide the opportunity to choose who will be on the cover of the series' next installment.
SB Nation's Travis Hughes has the details:
The voting takes place, bracket-style, at NHL.com. Two players from each NHL team will go head-to-head against one another in the Round of 60, with one player from each team advancing. EA Sports will select two wild card picks on their own as well. First round voting opened Thursday morning and will continue through April 11.

Second-round voting, which will be held from April 12 to April 22, is not bracket-style. Fans will select 16 of the 32 remaining choices, and the top 16 vote-getters will advance to the third-round. From April 24 to June 6, those 16 winners will return to the bracket-style and ultimately a winner will be crowned.
Now that the rules and regulations have been taken care of, let's move on to what you are wondering: which Washington Capital will have the chance to grace the cover of "NHL 13"? Your choices are defenseman John Carlson or forward Brooks Laich.
I am as underwhelmed as you are.
Alex Ovechkin was on the cover of "NHL 07," but at the time, he was the league's most dynamic superstar. For lack of a better term, Carlson has gone through the dreaded "sophomore slump." He has 31 points, just shy of his career-high 37, but he has plummeted from a plus-21 to a minus-15 in one year. Though he does have on-screen experience...
Meanwhile, Laich is worthy of the cover of "Tiger Beat" with those piercing blue eyes, but he is also having a rough season with just 38 points in 77 games.
Yet, I will relent and vote for Laich if and only if this picture can be on the cover.
---
Adam Vingan is co-founder and editor of Kings Of Leonsis, a Caps-centric blog, and is the Capitals Editor for SB Nation. Follow him on Twitter @Adam_KOL and e-mail your story ideas to adamvingan (at) gmail.com.