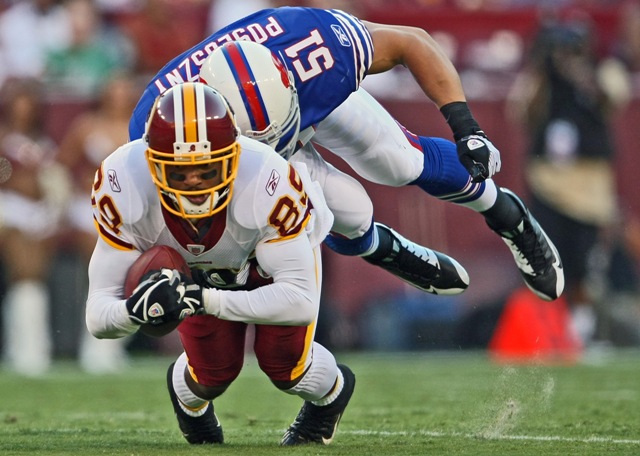 We all know what the D.C. media says about the Redskins, but what's going on behind enemy lines? During the season, we're going to head over to the opposing side and look in on the game chatter in preparation for that week's match up.

This week we're checking out what the Bills and the Buffalo media are saying about the Redskins.

The media says…

"Heading into Sunday's game in Toronto against the Washington Redskins, the Bills have a league-low four sacks, and they have performed quite a daily double in ranking 30th in both run defense and pass defense." – The Democrat and Chronicle providing the silver lining to the Redskins' options at quarterback.

"[Spencer] Johnson may see a bit more action this week because Washington has a quality running game, and he's good at using his big frame to set the edge of the defense on runs to the outside. The Bills rank 30th against the run. If that doesn't improve, Buffalo's league-low sack total (four) isn't going to get a lot better." – BuffaloNews.com with more good news for John Beck.
The team says…

"The expectation is there's going to be just as many cheers for the Redskins as there will for us. We just have to make sure we're the ones making the big plays so there's no cheers for the other team." – Bills safety George Wilson, who is clearly confused as to how far Toronto is from Washington.
This one isn't really game related, but we enjoyed Nick Barnett's anatomy lesson...
Um, no.
Questions, comments or tips? Email Sarah at sarahskogod@gmail.com. You can also follow her on Twitter (@sarahschorno).