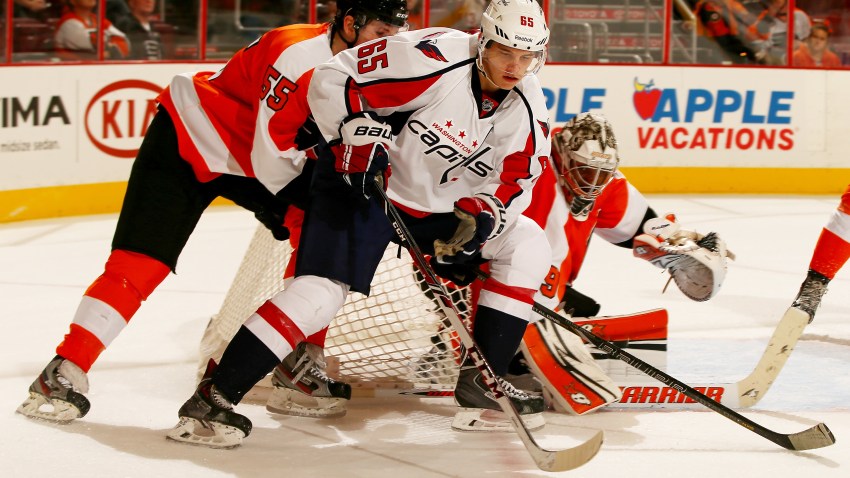 After yet another impressive preseason performance by rookie forward Andre Burakovsky, the postgame question that has been routinely posed to Washington Capitals coach Barry Trotz was slightly altered.
At this point, is there anything Burakovsky can do to not make this team?
"He's earned the right," Trotz said Thursday following the Capitals' 3-2 preseason shootout victory against the Philadelphia Flyers. "He's gotten better every game. I don't imagine him not being here."
Burakovsky's likely inclusion on Washington's opening-night roster, due to the NHL by 5 p.m. ET on Tuesday, would cap an admirable segue to a foreign position.
At the behest of the organization, the 19-year-old natural winger transitioned to center, first playing the position during an intrasquad scrimmage during the Capitals' July development camp. Burakovsky returned stateside last month prior to rookie camp having trained at the position with his former Swedish league team, further ingraining the nuances of playing center -- particularly defensive positioning -- into his game.
He has acquitted himself well since. In five preseason games, Burakovsky has scored twice and assisted on a game-winning goal. Against the Flyers on Thursday, he wristed a shot past two oncoming defensemen and goaltender Steve Mason to tie the game in the second period, displaying perhaps his most dangerous offensive asset.
"What really separated him was his wrist shot when he was on the rush," Kris Knoblauch, the coach of Burakovsky's junior team in Erie, Pennsylvania, said this summer. "He scored numerous goals just using the defenseman as a screen and shooting it through his legs and beating the goaltender. With his wrist shot that's certainly something that the other players, as good as they were, couldn't do."
As the Capitals' locker room opened after the game, Burakovsky's locker stall was surrounded yet again by reporters asked him to gauge his most recent performance, which has become something of a preseason ritual.
"Yeah, like I said all the times, it feels more comfortable every single game and every single practice out there," he said. "In the beginning I was a little worried that I was doing wrong all the time. Now I can focus on doing the right stuff on the ice all the time. I don't have to be afraid to do some mistakes."
It is that level of maturity, among other things, that has intrigued Trotz enough to seriously include the 2013 first-round draft pick in Washington's immediate plans.
"We're talking to him," Trotz said. "The thing with a young player is you don't want to over-coach him, tell him every mistake. You want to show him stuff and then he's got to learn from that. He's been looking at a lot of film. Obviously we've got a great centerman in [Nicklas] Backstrom and he's been looking at our games, [Boston Bruins center Patrice] Bergeron and people like that.
"He's going back to school for the North American [style of play] here, trying to learn it under fire. Just got to be patient. If we do that, I think we'll be rewarded."
---
Follow Adam on Twitter @AdamVingan and e-mail your story ideas to adamvingan (at) gmail.com.