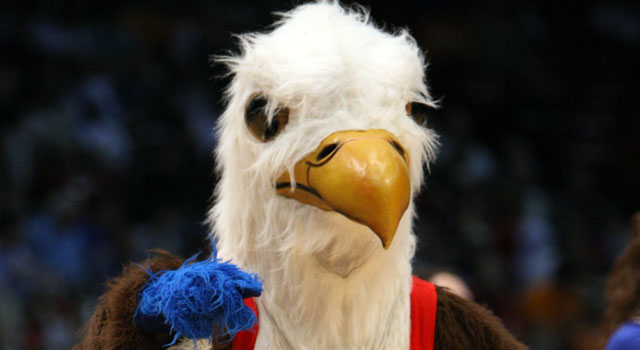 WASHINGTON -- The good news for American, courtesy of the NCAA: The Eagles have been bumped up a seed from last year, and they won't have far to travel.

The bad news: Their opponents will essentially have a homecourt advantage.

The Patriot League champions were seeded 14th in the East Regional on Sunday when the bracket was announced for the NCAA tournament. American (24-7), making the second NCAA Division I appearance in school history, will put its 13-game winning streak on the line Thursday against third-seeded Villanova in the Wildcats' home city of Philadelphia.

Coach Jeff Jones' team lost 72-52 to Tennessee in Birmingham, Ala., as a No. 15 seed a year ago. Next week AU will again attempt to emulate Bucknell, which upset Kansas in 2005 and Arkansas in 2006 and is to date the only Patriot League school to win a game in the NCAA tournament.

American took the Patriot title with a 73-57 win over Holy Cross on Friday. Afterward, Jones told his players "There's still more out there" and said he would work to avoid a repeat of last year's star-struck performance against Tennessee.

For a while, it seemed American would be the only school in the D.C. area to make the tournament, but Maryland's strong performance in the Atlantic Coast Conference tournament earned the Terrapins an at-large bid. Maryland was seeded 10th in the West and will play seventh-seeded California in Kansas City, Mo., on Thursday.

As expected, Georgetown and George Mason were left waiting for NIT bids. The Hoyas (16-14) were ranked in the top 10 in January, but they lost 11 of their last 15, including a first-round defeat to St. John's in the Big East tournament. They will play at Baylor in the first round of the NIT on Wednesday.

George Mason (22-10) turned an at-large bid into a Final Four run three years ago, but the Patriots' nonconference schedule wasn't as strong this season. George Mason, which lost to Virginia Commonwealth in the championship game of the Colonial AthleticAssociation tournament, will play Tuesday at Penn State in the NIT's first round.

Copyright AP - Associated Press