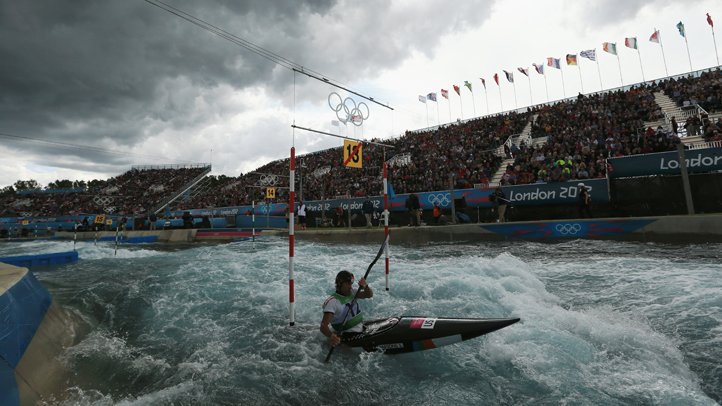 A costly error kept Bethesda whitewater kayaker Scott Parsons out of the finals -- yet again.
Parsons' Olympic record is spotty, at best. In the 2004 Athens Games, Parsons finished what he then considered a disappointing sixth place. A year after missing the podium Parsons announced his retirement.
It seemed that would be the end of a short professional career, but Parsons came out of retirement and, four years later, was back in pursuit of a medal in Beijing -- but again it didn't go quite as planned.
Parsons missed a gate (the 20th of 21), disqualifying himself in the process. After the second Olympic defeat he immediately announced a second retirement, but again it didn't stick.
The next year he inadvertently got himself back in shape while training for the Marine Corps Marathon -- finishing with a time of 3 hours and 44 minutes -- and that was all it took.
He squeezed his way onto the U.S. national team, competing at the 2011 Canoe Slalom World Championships. A 15th place finish opened up a spot in the men's single kayak event in London, but didn't guarantee the spot to Parsons. It would take nearly another year for Parsons to claim the spot as his own.
Things were looking up for the optimistic paddler. He had just completed a huge comeback and was looking poised to medal in London.
Parsons best run in London was his first when he clocked in a 94.16, good enough for 13th place and only 10.67 seconds off of the leader Hannes Aiger of Germany.
"The first run had a lot of good bits," Parsons said. "I had two kind of slow sections that made the run as a whole not very competitive, which is too bad. I was happy with about 90 percent of the first run, it was just that 10 percent that really sort of pushed the time up."
To advance to the semifinals Parsons needed to finish in the top 15, and he still had another run left to improve his time.
By the time all the competitors had taken their first trip down the course, Parsons was sitting on the wrong side of the final 15, in 16th place, but with a chance to redeem himself.
A four-year comeback all came down to this. Parsons needed to improve his time by two seconds to advance.
All was going well until Parsons reached the 8th gate -- and promptly missed it. Just like he did four years earlier.
"It was a downstream on the left part of the current that I was a little late for and I had to do a little maneuvering to make sure I was in," Parsons said of the missed gate.
Again, Parsons would fail to medal, and fail to even make it out of the first round.
"It's just a shame that he did not make the gate," said USA Canoe/Kayak National Teams Director William Irving. "It would have been fast enough to make it into the semis. It wasn't a great run, but it would have been enough to make it in."
His final time was a 141.72, which included 52 seconds of penalties (50 for missing the gate and 2 for hitting another gate). Subtract the penalties and Parsons would have finished in 89.72 -- it would have put him in 12th place and in the next round.
Yet again, for the third time in three attempts, Scott Parsons will be leaving the Olympics without a medal, but unlike years prior he has announced that he will not be retiring after the Games.
"It's been so much fun, just a really good relaxed atmosphere," Parsons said. "The Village has been really cool, the venue is incredible, the crowd has been fantastic. The whole experience so far has been really, really good, and I'm actually looking forward to the next week or so of hopefully watching some other events and having some more good times."