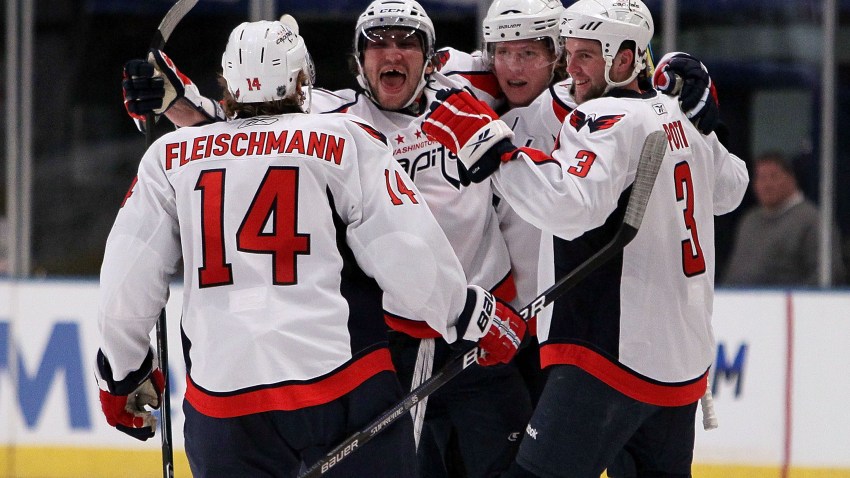 When you win 14 straight games in the NHL, you have to catch some breaks. Unfortunately, the big break went against the Capitals Wednesday night in Montreal.
The Caps lost a heartbreaker in overtime, 6-5, to the Canadiens. On Sunday, the Caps extended their streak to 14 by beating the Pens in overtime. There's only so much OT magic in those carbon-fiber sticks, apparently...
Last night's controversial play came during the second period with the Caps trailing 4-2. Alex Ovechkin plowed over Hal Gill, sending the hulking defenseman into his own crease and causing a loose puck to slip by goaltender Carey Price. Not only is Ovie the best goal scorer in the National Hockey League, but man can he play physical. He just laid out Gill, who is 6 foot 7 and weighs 250 pounds. Despite that, Ovie practically threw him toward his own net.
The referees initially ruled it a goal. After reviewing the play, the goal was waved off.
"If they would have called it no goal, I would have accepted it, but they called it a goal on the ice" head coach Bruce Boudreau said after the game.
Ovie didn't say much after the game: "I don't want to comment but I think it's a clear goal."
Decide for yourself. Watch the video below:
Despite the waved-off goal, the Caps eventually made another thrilling third-period comeback, but it was to no avail. The Caps lost with just 8 seconds left in overtime when Tomas Plekanec beat Jose Theodore. Streak over.
To put the amazing run into perspective, the 14-game winning streak is the third longest in NHL history, tied with the 1929-30 Boston Bruins. The Penguins have the record with 17 straight wins set in 1992-93.
The Capitals have a chance to start a new streak Thursday night when the team plays Ottawa on the road. Then the Caps play Saturday against St. Louis before half the team gets time off for the Olympics.
Don't worry hockey fans, you can see several members of the Caps playing for their home countries in the Winter Olympics in Vancouver.
Right now the Caps have the best record in hockey with 88 points. Hopefully the time off for the Olympics won't affect the momentum the team has built.