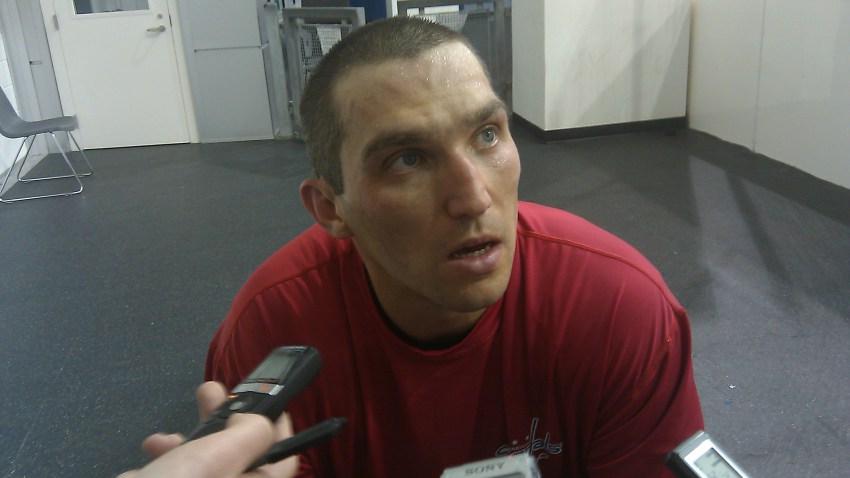 Washington Capitals forward Alex Ovechkin's appearance has now officially gone full circle.
Ovechkin has transformed from the shaggy-haired, scruffy-faced GEICO Caveman lookalike to the clean-shaven, buzzcut-sporting specimen that we saw in a picture that he tweeted out late Monday.
Accompanying the tweet was the message that he was "ready to fight for NHLPA!!!!" After participating in an informal workout with 10 teammates at Kettler Capitals Iceplex Tuesday, Ovechkin echoed that sentiment.
"Just a personal reason," Ovechkin said when asked about the new hairdo. "I'm one of the soldiers on the NHLPA."
"The kids that want to be Ovi are going to get the tennis ball look," General Manager George McPhee added shortly after. "That's a good-looking haircut."
Speaking of cuts (albeit of the monetary variety), Ovechkin spoke about the ongoing collective bargaining agreement negotations between the NHL and NHLPA, which have recently reached an impasse. No talks are currently scheduled between the league and the players less than two weeks before the current CBA expires Sept. 15. NHL commissioner Gary Bettman has made it clear that the league will lock out the players if a new agreement is not reached by 11:59 p.m. ET on Sept. 15.
On owners wanting to cut salaries:
"I think it's not fair for us. They still make money, they still sell tickets and they have money. Why they sign us long-term deals and that kind of money to after that when the CBA's gonna be done, they wanna cut our salary? Why they wanna cut 24 [percent]? Why don't they wanna cut a hundred percent of salary?"
"If they're going to cut a percentage of the contracts and years, I don't think lots of guys who sign American deals are going to come back and play here. It's not reasonable to be here. You have to think of your future. You have to think of your family."
On Donald Fehr's leadership as the leader of the NHLPA:
"I'm very comfortable. I think everybody trusts him, and we know exactly what we're gonna do and we feel exactly what's gonna happen. If it's gonna be lockout, there's gonna be lockout. We're ready for that. If we was not ready we'd probably sign that kind of paper [offer] what they give us. But we're ready and we're not gonna give up."
On playing elsewhere in the event of a lockout:
"Of course I think about it because my hometown have teams and my Russian Federation have a league. Of course I'm probably gonna be there. But I don't wanna be there; I wanna be here. But, again, my contract is here and I hope the NHL and NHLPA are gonna sign a deal before the 15th."
On the potential of a work stoppage:
"I don't think we're close enough to make a deal. It's all about the owners and [Gary] Bettman."
On the impact that a third lockout within the last 20 years could have on the league as a whole:

"Of course it's gonna be hard, of course it's gonna be a long time to wait, but it is what it is. Everybody wants to play hockey and make money. Nobody wants to play for free."
---
Follow Adam on Twitter @AdamVingan and e-mail your story ideas to adamvingan (at) gmail.com.