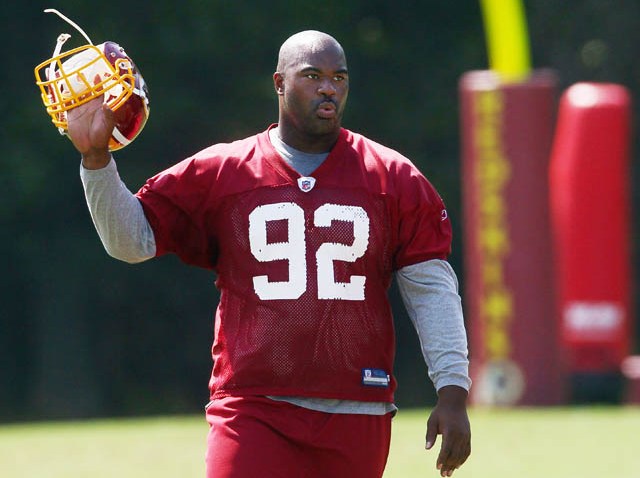 It's no secret that Albert Haynesworth has been more than a little bit of a bust for the Redskins. The "Haynesworth is a jerk" stories have been numerous since early in his tenure with the team.

But since the lockout is still in place and everyone is bored, we're talking about it again.

Redskins defensive coordinator Jim Haslett all but confirmed how the team feels about the Redskins' problem child in an interview with the "Zach and the Coach Show" on 101 ESPN radio in St. Louis.

"He can do almost anything he wants," Haslett said "He doesn't want to do anything. To me that's the issue."

There are oh-so-many issues with Haynesworth. Narrowing it down to one must have been hard for Haslett. He went on to elaborate.
"He's one of those guys you walk in a meeting and you tell him, 'Put down the phone,'" Haslett said. The next day you have to tell him to put down the phone. The next day, you tell him to put down the phone."
It sounds just like having a 6'6", 330-pound toddler. The team should just be grateful he's potty trained.

Haslett confirmed what we already knew: the team has a $100 million defensive tackle who doesn't seem to want to play their style of defense.
"He just didn't want to play in this scheme. He didn't want to play in the 3-4," Haslett continued. "He didn't want to do the things we wanted. Then we said, 'OK, if you're not going to do it, let's not do it. Let's play nickel, play the 3-technique.'

"Then, it got to the point where he said, 'I don't want to play first- and second-down nickel. I just want to play third-down nickel.' Oh my God, you're relegating yourself to 10-15 snaps a game. Then after that he didn't want to do the blitzes, he just wanted to rush."
And then after that he said he wanted to switch to quarterback, but only on keeper plays. Then he said he demanded to punt, but only with a golden football. Then he said he wanted to pitch for the Nationals but only the first pitch of the sixth inning if the team was at home and up by exactly three runs and the temperature was 72 degrees Fahrenheit.
All for $41 million guaranteed.
The team's NFLPA player rep and fellow defensive player Vonnie Holliday discussed it further on 106.7 The Fan.

"I don't know what's going to happen moving forward, but after these comments made by coach Has(slett), you've got to think how this guy is going to go back into that locker room and listen to coach and do anything short of what happened last year."

Hopefully we won't have to find out.

Questions, comments or tips? Email Sarah at sarahskogod@gmail.com. You can also follow her on Twitter (@sarahschorno).