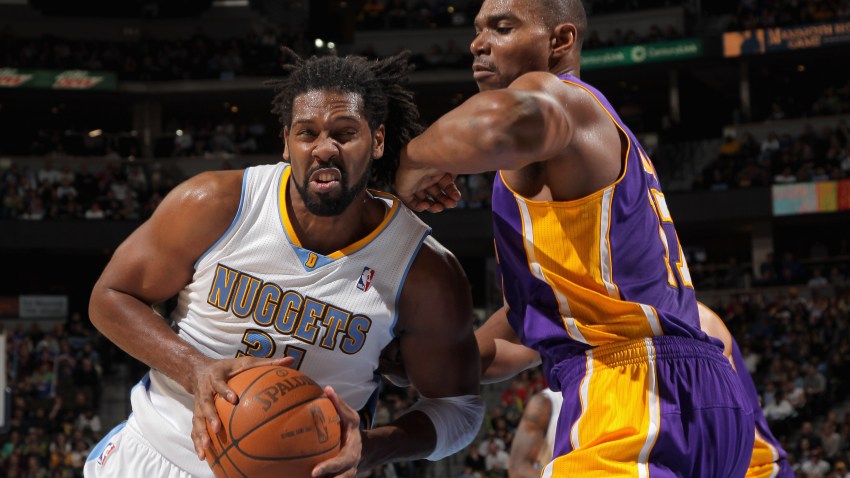 The Washington Wizards may have lost two of their biggest personalities last week, but lest we forget that the team acquired two players when they traded JaVale McGee and Nick Young Thursday.
Nene and Brian Cook addressed the local media for the first time Monday, expressing their feelings on joining the Wizards.
"We all look at playing for winning teams..I'm just happy to be with the Washington Wizards," Cook said to reporters, divulging something that probably has not been heard in a while. "I'm glad that they wanted me and I know Ernie [Grunfeld]. I think he's a great GM. I'm happy to help these guys. I'm just going to try to come in here, bring some veteran leadership and win some basketball games, hopefully. I know there are a lot of young guys on this team, I look forward to being around them."
Nene responded to questions regarding how he heard the news of his trade from the Denver Nuggets by telling reporters that they "don't want to know," but said that he looks forward to a new challenge.
"It was crazy," Nene said. "It was tough. I don't like to mention much because I still have no clue what happened. But I trust my Lord, my God. He put me here and I know when he trades me to somewhere or for somebody, it's for better things, for better stuff. I'm surprised by it, but it doesn't matter. I put it behind. Now I'm gonna try to do my best, get ready for a new career and try to be a better man."
Nene and Cook's answers are the ones that the Wizards and their fans likely want to hear as the team continues its rebuilding efforts. To be perfectly honest, however, they are not as much fun. To compare, Young said in a Los Angeles radio interview that the Wizards were "cursed," while McGee told the Nuggets' website that he is not a "loser just because I was on a losing team." Memories...
Meanwhile, former Wizard/"comedian" Gilbert Arenas will apparently sign a deal with the Memphis Grizzlies. Why does everybody else get to have all the fun? Is winning basketball worth sacrificing sitcom-like antics? Probably (defeated sigh).
---
Adam Vingan is co-founder and editor of Kings Of Leonsis, a Caps-centric blog, and is the Capitals Editor for SB Nation. Follow him on Twitter @Adam_KOL and e-mail your story ideas to adamvingan (at) gmail.com.