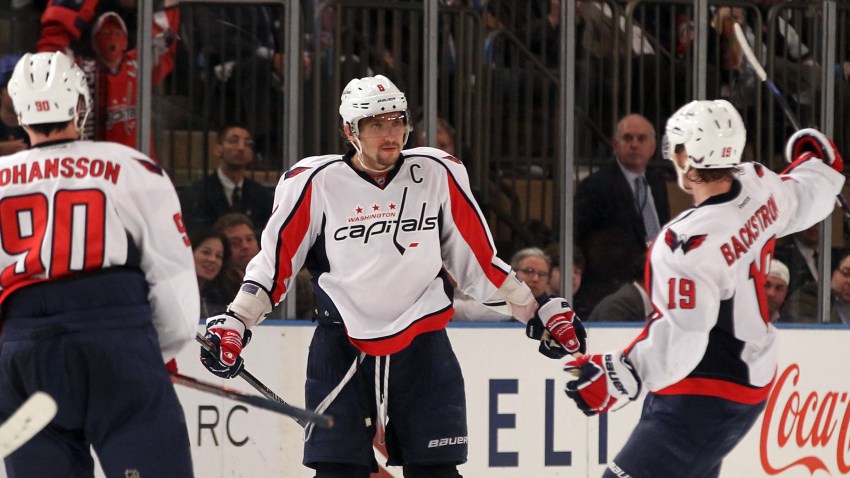 NEW YORK - Where in the world is Alex Ovechkin?
With all due respect to Carmen Sandiego, that is the question that was seemingly on everybody's mind Monday during the Washington Capitals' 3-2 Game 2 victory over the New York Rangers at Madison Square Garden. With under four minutes of ice time in the first period, the rumbles began. Is Ovechkin hurt? What did he do to anger Dale Hunter?
The answers to those questions are "no" and "who knows?". Yet, despite earning a postseason career-low of 13:36 (over six minutes less than grinder Jay Beagle), Ovechkin made every second count when his late third period power play goal held up as the game-winner.
"It's most important thing right now guys just win the series and win the game," Ovechkin said after the game. "If you gonna talk about my game time and all that kind of stuff, it's not a season, it's the playoffs. How I said before, you have to suck it up and play for team."
In his "absence," the rest of the Caps stepped up. The fourth line of Joel Ward, Keith Aucoin and Mike Knuble, responsible for the series-clinching goal against the Boston Bruins, scored the game's first goal Monday in a beautiful display of tic-tac-toe passing. Jason Chimera added one of his own later in the period to give Washington an early 2-0 lead, one it would eventually lose midway through the third period.
When the Caps need a big goal, they usually turn to Ovechkin and that is what happened Monday when he rifled a wrist shot past Henrik Lundqvist for the game-winning goal. The Madison Square Garden crowd, which had been serenading Ovechkin with "Ovi Sucks" chants throughout the game, fell silent as Ovechkin cupped his left hand to his ear, almost begging for more dissention.
Perhaps Ovechkin's boastfulness can be construed as a message to those who believe he has become a shell of his former, high-flying self. Inside the locker room, however, that notion fell on deaf ears.
"He scored the game-winning goal," Brooks Laich said. "That's all that matters."
---
Adam Vingan is co-founder and editor of Kings Of Leonsis, a Caps-centric blog. Follow him on Twitter @Adam_KOL and e-mail your story ideas to adamvingan (at) gmail.com.