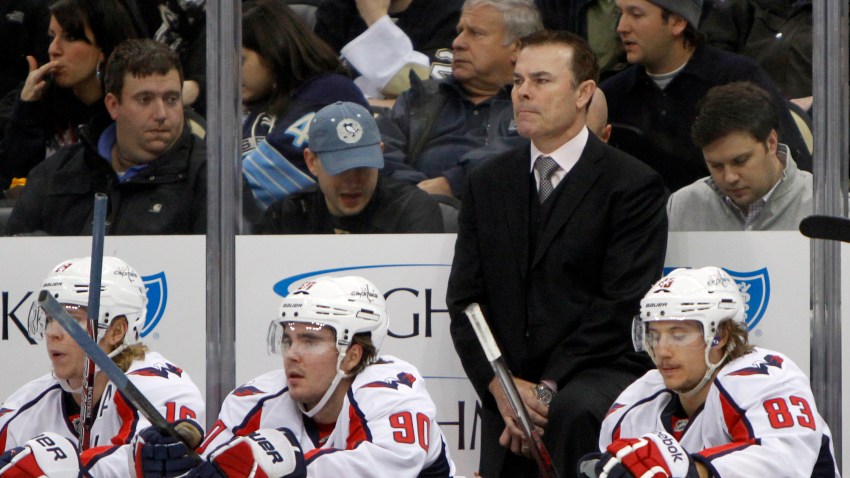 When attempting to quantify how well the Capitals have been playing recently, one needn't look further than the statistics.
Washington is 15-4-1 in its last 20 games. Alex Ovechkin has scored 21 goals over that span and now leads the league with 30. In their last five games, the Capitals' power play is 7-for-21 (33 percent) and is the only unit in the NHL with a success rate of over 25 percent, while the penalty kill has steadily improved, having killed off 13 consecutive opposing power plays.
For Coach Adam Oates, however, it's not about the numbers.
"We honestly haven't talked about statistics," Oates said after Washington's 5-1 win over Toronto last week. "Where we are [in the standings], how many [wins] in a row, or 'Man, we're playing good.'"
Throughout his first season behind the bench, Oates has put an emphasis on de-emphasizing the importance of statistics on both the individual and team level, and by highlighting execution over production, he has created a low-pressure environment for his team to play in.
Of course, as Oates admitted last week, convincing players that their worth is not solely judged by their personal numbers can be challenging, but much like everything else Oates has preached this season, the Capitals eventually bought in.
"It's harder when you're supposed to be a point-producer because everyone looks how well your game is and judges your game with how many points you're putting up," said forward Troy Brouwer, who is on a hot streak of his own with six goals in his last five games. "Even if you're making good defensive plays or working hard, a lot of times, there should be a third assist given out, but there never is. A lot of the time, it's that third assist that might be a play along the wall or chipping the puck out of your own end that created a rush. Things like that get overshadowed.
"There are certain guys in here that love getting points," he continued. "Everyone does. If those guys are playing well, they're going to get their points. They're in direct correlation with each other. When Alex [Ovechkin] is working hard, he scores goals. When Nicky [Backstrom's] working hard, he gets points and makes plays, and so on down the board. We're not looking at guys to get points, we're looking at guys to play well and their points will follow."
Forward Mathieu Perreault provides one of the better examples of Oates's method. The 25-year-old found himself a healthy scratch for six of the first 11 games of the season, but has since become a steady presence on Washington's third line. Oates felt that Perreault was pressing too hard to contribute on the score sheet in order to stay in the lineup instead of simply competing. Once Perreault's focus shifted, he found himself playing more often.
"It's hard because he's been regarded as a guy who's been in and out of the lineup and people expect a spark offensively," Oates said of Perreault last week. "I don't think that works anymore. You've got to be able to play. He's a good hockey player and he's shown he can play two ends of the rink and because of that you get more minutes, you get rewarded more."
It was Oates's focus on positive reinforcement that smoothed the transition from production to execution. Even as Washington's flaws were regularly exposed during its league-worst 2-8-1 start, Oates made sure to point out what went right during video sessions instead of criticizing what went wrong, a vast and welcome departure from previous coaches, according to Perreault.
"With [former coach] Bruce [Boudreau], it was a lot different," he said. "After a loss, we would look at bad clips and show us what we did bad. With Oatesy, it's always the positive things."
"If you look back at the start of the year, we weren't winning that much, but he saw things that we were doing right that he liked and he was emphasizing that. Even after a loss, we would have meetings and he'd be like, 'Boys, we did a lot of good things.' He always tries to look at the positive things. And looking back, it worked."
---
Follow Adam on Twitter @AdamVingan and e-mail your story ideas to adamvingan (at) gmail.com.