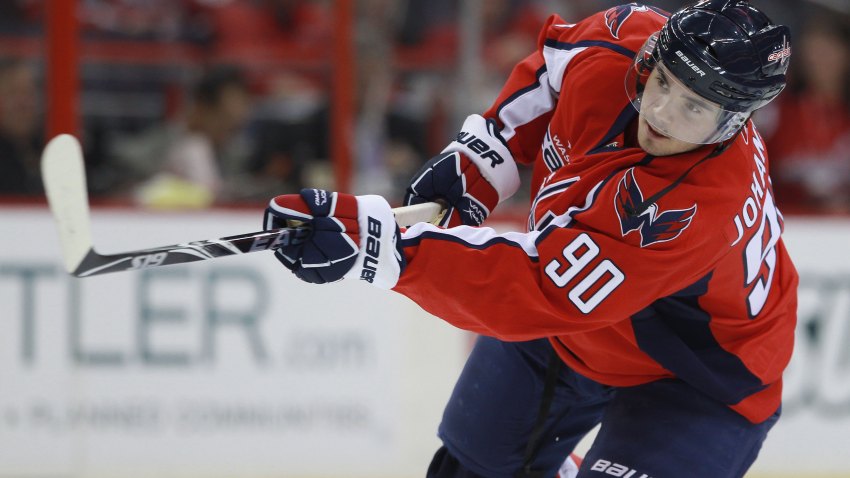 Imagine you're a rookie NHL center skating in on a 2-on-0 with perhaps the greatest sniper in the game today.

What do you do, rookie? What do you do?

If you're Marcus Johansson, there's only one answer: keep passing the puck to Alex Ovechkin until he shoots -- and scores.

Smart move, rookie. Smart move.

That was the situation Johansson found himself in Wednesday night at the Verizon Center. And he handled it like any good centerman would playing alongside the Great Eight.

First, Ovechkin stole the puck off the stick of Kurtis Foster as the defenseman tried to lug it out of his own zone. Ovi then curled back toward the Edmonton net with Johansson -- and no Oilers in sight. From there, you could have sworn Fred Astaire was on the ice, because all the crowd heard was the tap-tap-tapping of the puck on stick blades. Ovechkin passed to Johansson, who tapped it back to Ovi, back to Johansson and finally back to Ovi, who roofed a shot over a stunned Nikolai Khabibulin to give the Caps a huge three-goal lead.
"I was kind of surprised me and Marcus had a 2-on-0," Ovechkin said after the game. "It was kind of cool."

And Johansson, who was filling in on the top line for the injured Nicklas Backstrom, kept his cool with those quick passes.

"I think everyone knew who was going to shoot there," Johansson said with a smile.

Ovechkin scored twice and Eric Fehr also netted a pair in his first game back after a shoulder injury as the Caps blanked the hapless Oilers 5-0 and extended their winning streak to six games.

It was a return of the offensive flair at the Phone Booth -- at least for one night.

"We knew they had nothing to lose and they play open hockey," Ovechkin said of the fast-skating Oilers squad.

That meant the Caps could step on the gas a bit more and take more chances. They posted 36 shots on net and could have had a few more goals (including a wraparound by Alex Semin that beat Khabby but hit the far post; and several chances by Mike Knuble, who couldn't convert).

But despite the offensive attack, the Caps also managed to keep the Oilers in check, limiting them to just 22 shots on Braden Holtby, who recorded the first shutout of his NHL career.

"It's definitely a step in the right direction," Holtby said. "Our defense is playing very well right now, and to see the offense kick in like that, we're going to be a dangerous team."

Add all of that up, and you've got one happy Bruce Boudreau.

"It's nice to not have to worry in the last five minutes that it's a one-goal game," he said. "I can't remember the last time that happened."

Speaking of, do you remember the last time Ovi scored a power-play goal on home ice this season? That's a trick question, because -- believe it or not -- Ovechkin had not registered a goal with the man advantage on home ice until Wednesday night. In the team's 35th home game. Crazy stuff, eh?

Boudreau called it "an unbelievable fact."

It is. But it's also fact now that Ovechkin is the No. 3 point-getter in Capitals history. His assist on the second goal of the game gave him 600 points in his career, passing Michal Pivonka. Peter Bondra (825) and Mike Gartner (789), you have been warned.

"It was kind of a big night tonight," Ovechkin said.

Ovechkin wasn't the only one reaching milestones. Jason Arnott's slap-pass assist on Ovi's first goal was the 900th point of the veteran center's career. Recently acquired defenseman Dennis Wideman also reached a milestone, recording the 200th point of his career.

"There must have been something in the water," Boudreau joked after the game. "The 200th point, the 900th point, the 600th point -- that's all great stuff. I'm glad we get them out of the way. I hope that if there are any other milestones we get them out of the way so guys don't press for things."