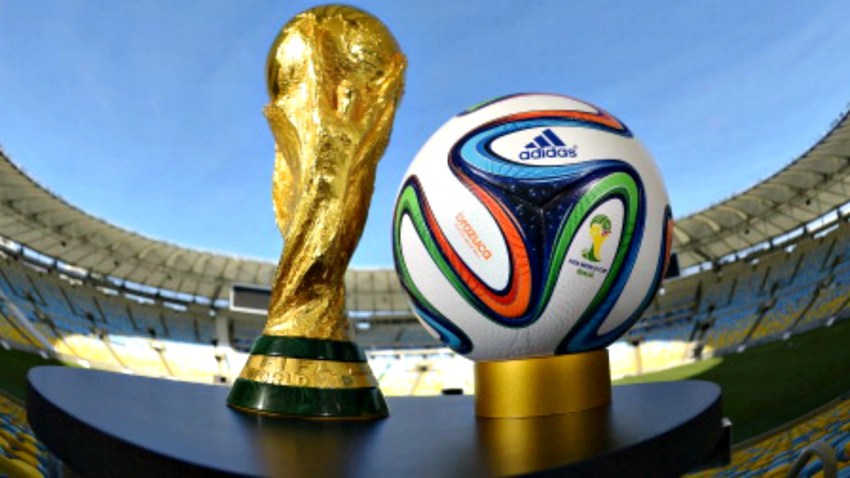 We've all been there... dragged by a sports-wild friend or significant other into obsessively watching sporting events whether we want to or not. Whether it's curling or bull-fighting, it can be hard to get excited for sports that aren't your favorite.
The upcoming World Cup in Brazil is no exception... but we might have the solution.
Here are 15 crazy, fun facts to get you pumped up to watch the international futbol extravaganza.
15. The Eternal Flame at the Arc de Triomphe in Paris has only been extinguished once since its lighting in 1923 -- when a drunken Mexican soccer fan urinated on the flame after France defeated Brazil in the 1998 World Cup.
14.The 2022 World Cup is being held in a city that does not exist yet. Qatar, the host country, is building an entirely new destination to host the 2022 Cup.
13. Shakira's song "Waka Waka" ("This Time for Africa") was written for the 2010 FIFA World Cup. It sold one million singles worldwide in its first two months of release, making it the fastest-selling single of the digital age. It topped the singles chart in more than 20 countries and is the eighth most-viewed YouTube video.
12. France (maybe still holding a grudge from 1998?) demanded two types of soaps in each World Cup hotel room -- one for showering and one for washing hands -- and each player's room must be identical, down to the color of the paint.
France isn't the only country making unusual demands. Uruguay demands silent air-conditioning units in each room, Japan asks that each room has a jacuzzi, and Costa Rica requires that players have access to a "chill out room" with sofas and video games.
11. Specific demands weren't adequate for Germany -- the country built its own hotel and training camp in Bahia. According to FIFA, Germany built a complex with a village atmosphere, 13 houses and 65 rooms. It was funded by sponsors and will be used as a sport and nature resort after the World Cup ends.
10.The most expensive player in the 2014 World Cup is Lionel Messi of Argentina. FIFA reports that he has a market value of 139.6 million Euros.
9. According to the History Channel, India had to withdraw from the 1950 World Cup (also held in Brazil) because players were accustomed to playing barefoot, and FIFA required shoes.
8. Jennifer Lopez will perform at this year's opening ceremony alongside Pitbull, who wrote the tournament's official tune "We are One (Ole Ola)." They'll take the stage before Thursday's opening game in São Paulo.
7. Brazil has made the most consecutive World Cups, appearing in all 19 tournaments. The nation previously hosted the tournament in 1950, and will become only the fifth country to host a World Cup for the second time.
6. Lucien Laurent of France scored the first goal in World Cup history on July 13, 1930.
5. Brazil 2014 is the most expensive World Cup ever. The cost so far is about $16 billion, compared to $5 billion for Japan in 2002, $6 billion for Germany in 2006 and $4 billion for South Africa in 2010.
4.The District is a great place to watch the World Cup... or just take advantage of great Cup Happy Hour deals. Here are our picks for 10 local bars to watch the World Cup, many which will offer drink specials or deals throughout the tournament.
3.Did you know the World Cup champion wins a cash prize? According to FIFA, the winner of the Cup will take home $35 million -- $4 million more than 2010's winners. The runner-up will win $25 million.
2. D.C. United players who didn't make the U.S. national team will be at the Reston Town Center on Sunday, June 22 for a meet-and-greet and World Cup viewing party. Grab some food, enter giveaways and mingle with your favorite players from noon until 9 p.m.
1. Want to watch an extra-exciting part of the competition? Former Brazilian footballer Ronaldo might lose his record of making 15 World Cup goals. Look out for German player Miroslav Klose, who only needs to score two goals in Brazil to become the new World Cup top goalscorer.
Bonus: Still not looking forward to the tournament? Get a few friends together and draw a random team to support throughout the Cup! Don their colors and flag and compete against friends to see which teams are left standing -- just because you can. Who knows, they might just take the whole Cup!