My fellow Rotoworldians, let's not beat around the bush: I am a genius. My pick-making abilities can't be stopped by benchings (Rex Grossman), practice squad demotions (Darius Walker), cuts (Billy Cundiff), or even bye weeks (Chansi Stuckey). I really mix it up: notice how each of my picks are irrelevant for a different reason. This is evidence of my courage, imagination, delusion, and willful naivet'. I truly am king of the vast community of Rotoworldia.
But like any king of a large fantasy nation-state, I risk being dethroned. Two weeks ago, one of my bold assertions started a large-scale, inter-galactic controversy. You see, I had the scoop on a huge story when I was the first person to publicly state based on no evidence that Brady Quinn is the true Best Football Player the History of the Universe (BFPHU). It was clear to me that the only possible explanation for why he is currently riding the pine in Cleveland was that the NFL doesn't want him to steal the BFPHU title from Thorpox, an alien life form who plays running back for planet Nebulon.
Turns out my statement created quite a stir on Nebulon, and now they have a hit out on me. Don't worry, I don't fear retribution and will continue to patriotically post my standard-issue brilliance each week. However, if on the off chance that I am shot with a proton pistol by one of Thorpox's goons, I want the new $100K Challenge column writer to be ready to go on day one. (Incidentally, you can still win $100K if you sign up now.) In order to prepare for a potential transition, this week's column will be dedicated to showing the entire Rotoworld nation exactly how to write this column so that one of you will be able to step right in should Thorpox do his worst to me.
Quarterbacks
Jason Campbell - Written into the contract of every Rotoworld writer is language that explicitly states that Gregg Rosenthal must be mentioned in a flattering way at least once in every column. I suggest you get this uncomfortable formality out of the way as soon as possible and then hope people will have forgotten about it by the time they get to the end of the column.
What I like to do is pick a player that Gregg has been hyping and then steal his reasons for hyping that person. That way I don't have to do any of the work. For example, I might write the following: "As always-right Rotoworld dude Gregg Rosenthal says in his Morning After column, Campbell has finally overcome his soup-slurping love of interceptions." I made that up, but you get the idea.
I'd suggest that you add a few additional reasons just to be extra convincing. You could talk about how Campbell hasn't thrown an interception in 153 passing attempts this season. Or, you can talk about how bad the Rams defense is and mention that the Rams are giving up a little over twenty-one $100KFC quarterback points per game. I also suggest you end some of your pick paragraphs with a joke. The joke doesn't have to be funny per se, but it does have to be culturally recognizable as a joke. The easy way to do this is to riff off of the player's name: What Jason "Soup" Campbell is serving in Week 6 certainly qualifies as a full meal.
David Garrard - I normally like to go with one conservative QB pick and one risker QB pick, but this is one of those weeks where, because of matchups, it makes more sense to pick two riskier QBs and hope for the best. If you ever find yourself in a similar situation, remember to be sure to make your fly-by-night picks convincingly.
That should be a general rule as well: never hedge your bets, as this just gives readers doubts about your ability to be confident in writing opinions that you will never be held accountable for. So, always defend your worst picks with the verve of a mama bear protecting her bear cubs. Say you will ebay off your left nostril if Garrard doesn't throw for two touchdowns and run for one against Denver this week.
Also, before I forget, I should mention that you should limit the amount of cultural references you make, if at all possible. A really good piece of fantasy football sports writing can stay current for six days-three if there are Thursday games that week-and if you load your writing up with cultural references, your writing will become dated within hours, maybe minutes. If you really want your writing to stand the test of six day's worth of time, avoid including cultural references to, say, the latest episode of Gossip Girl. Even if you think it is important to mention that the show is more exciting when Serena is her wild self, such a reference will only stay relevant for days, maybe even hours, as it can be really hard to guess what the fickle American public will care about in the future.
Other potentially enticing matchups: Aaron Rodgers vs. Seattle, Carson Palmer vs. New York Jets, Drew Brees vs. Oakland, Brett Favre vs. Cincinnati, Gus Frerotte vs. Detroit, Eli Manning vs. Cleveland, Donovan McNabb vs. San Francisco, and Tony Romo vs. Arizona.
Running Backs
Clinton Portis and Adrian Peterson (MN) - If you ever find yourself in a situation where you are recommending a lot of front runners, you run the risk of being thought of as El Capitan Obvio. Sure, maybe you're recommending them because you've planned out your picks well in advanced and saved these players specifically for their matchups against the weak run defenses of St. Louis and Detroit, but that doesn't matter because the truth is, a decomposing sheep buried two feet in an irish bog could have come up with these two running backs.
But don't, under any circumstances, acknowledge this fact. The fantasy community can be tough on weakling writers, so it is better to use strongly-worded language and then create a diversion. Here is how to spin the strong part: If you already used Portis and Peterson, shame on you! Here is one way to create a diversion that takes attention away from these obvious picks:
Other potentially enticing matchups: Ronnie Brown vs. Houston, Correll Buckhalter vs. San Francisco (if Brian Westbrook's ribs keep him out), and Brandon Jacobs vs. Cleveland.
Wide Receivers
Randy Moss and Santana Moss (no relation) - Try to make picks that lend themselves to peppy banter. For example, Wes Welker might have been the smarter pick since Matt Cassel has proven that he is capable of passing to Wes but doesn't always remember that Randy exists. So, sure, you could have picked little Wes in his start against San Diego's poor pass defense, but then you wouldn't have been able to pick two Moss' in the same week, and we all know that picking two Moss' is just loaded with comedic opportunity. For example, you can make subtle jokes like this: These two Moss' are going to get on a roll and gather in tons of catches this week in their matchups against San Diego and Detroit, respectively.
Greg Jennings - I love Jennings and think he will do especially well against Seattle this week. Which reminds me: every column you write you should try to slip in one tiny fact about yourself. Like an iceberg, you should give your audience a glimpse of the surface area of your soul and let them try to guess the rest. Start with something innocuous, like how you are the same height as Greg Jennings, or how you print out pictures of him from the internet on your dot matrix printer and post them all over your bedroom walls. Make sure you don't overdo it because people don't really care about you-at the end of the day they just want the picks. In the same way that getting overly familiar with an iceberg can be disappointing because ultimately it is just a block of frozen water floating in unfrozen water, when people get to know you they will be disappointed to discover that you are just a block of organized cells floating in a mush of bodily juices.
Other potentially enticing matchups: Reggie Brown vs. San Francisco, Plaxico Burress vs. Cleveland, Greg Camarillo vs. Houston, A New York Jets starting WR vs. Cincinnati, Donald Driver vs. Seattle, T.J. Houshmandzadeh vs. New York Jets, Brandon Stokley vs. Jacksonville, and Matt Jones vs. Denver.
Tight End
Chris Cooley - Every now and then you are lucky enough to pick a player who writes his own blurb. Chris Cooley, who is an avid blogger and YouTuber, generates his own content. For example, he recently put his tense argument with the automated voice of OnStar up on YouTube. It's pretty funny that Chris keeps saying "cancel" to the automated voice's yes/no question. What you do in these cases is to link to this content and act as if you yourself had something to do with the funny OnStar lady video. If you're lucky, your fantasy football readership will think you are funny by association.
This Cooley pick reminds me of another point I wanted to make, and that is you need to keep your column free of lasciviousness. Just because Cooley accidentally showed his junk to the world on his blog doesn't mean that you need to bring it up in the column. This a family column.
Other potentially enticing matchups: None. Well, maybe Visanthe Shiancoe vs. Detroit. I hesitate to recommend him because even though he did score a touchdown in his MNF Week 5 game, he only had one other target all game.
Defense
Washington Redskins - As a last resort (but only as a last resort) you can try honesty. Do not overuse this technique, because if overused it starts to sound earnest and uninteresting. Better to mostly lie so that those few times when you actually tell the truth, your readership will perk up a bit. For example, here you might be a good time to admit your mild affection from Jason Taylor and earnestly give him props for his heartwarming show of talent on Dancing With The Stars.
One additional potentially enticing matchup: Minnesota vs. Detroit.
Kicker
Shaun Suisham.no, I take that back. Go with Ali Haji-Sheikh - If you are worried that you are starting to seem repetitive and predictable, mix it up a bit and go old school. Old school is very in these days. Remember that there is nothing more boring than a fantasy writer whose entire pick strategy can be summed up as "guy who picks anyone playing the Rams or the Lions." Defending a pick like Haji-Sheikh is easy because he holds the record for the longest field goal in New York Giants history (56 yards). Never mind that after a lingering hamstring injury burgled his accuracy he began to mockingly be referred to as "Haji-Shank," or that he hasn't played in an NFL game since playing for the Redskins in the 1987 Super Bowl. The important thing is that Haji-Sheikh works for a luxury car dealership now, and so this little shout-out might score you an Audi.
Other potentially enticing matchups: Ryan Longwell vs. Detroit, Mason Crosby vs. Seattle, New York Giants kicker vs. Cleveland, Josh Scobee vs. Denver, and David Akers vs. San Francisco.
The Sunday Night Football (SNF) Bonus Player (New England vs. San Diego)
Philip Rivers - Stats can be your best friend, so you should use them like you use your best friends when you ask them for a loan to pay for your dot matrix printer paper and never pay them back. For example: Rivers is averaging 20.0 points a game so far in the $100K Challenge and LaDainian Tomlinson is only averaging 13.0 points per game. Monitor both players closely this week, as both are a little nicked up, but ultimately you should probably go with the flow on this one, and that flow is Rivers. See what I did there?
Perfect Picks
See, the thing is, most fantasy sports writers are nerds, and nerds never play competitive football. Therefore, by the power of the transitive property, most fantasy sports writers have never played a snap of competitive football. But don't worry. If you don't know that much about football because you've never played the game, you can always use gimmicks as a crutch. One of the nerdy gimmicks that I like to use is to embed some sort of poll, picture, table, etc., using HTML code. For example, you can embed your Perfect Picks into a pulldown menu:
Jay CutlerAdrian Peterson (MN)Brandon MarshallPhilip Rivers (SNF)
My Current Ranking
If you happen to be doing well in the game, you should let people know. For example, if you are currently ranked 313th overall, have a separate section in your column in which you proudly display this information. Doing this is a little obnoxious, sort of like a parent bragging about their kid being on the honor roll, but unfortunately you are not above this sort of petty bragging. If you hit a bad stretch and fall out of the top 5,000 spots, immediately stop reporting your ranking.
The Thin Red Cut Line
You should consider including a chart that shows how many points an owner needs to score each week in order to qualify for the playoffs. Call it the "cut line." You should also show how your picks stack up against this so-called cut line (be sure to include every pick you've ever suggested in this column, not just the good ones):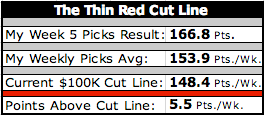 Conclusion
Try to be gracious in your conclusion. Wish the players of the game luck, and tell them you'll be back next week. Then use some sort of zippy phrase that indicates you are signing off. "I'm out like trout" should do the trick.
Sign up for the Perfect Picks portion of the $100,000 Fantasy Challenge. Register now and pick who you think will be the top fantasy-scoring player at QB, RB, WR, and on Sunday Night Football. If you are right, you will automatically advance to the playoff round and have a chance at the $100,000 Grand Prize. Sounds easy, right? Click here to play Perfect Picks.
Copyright Archive Sources