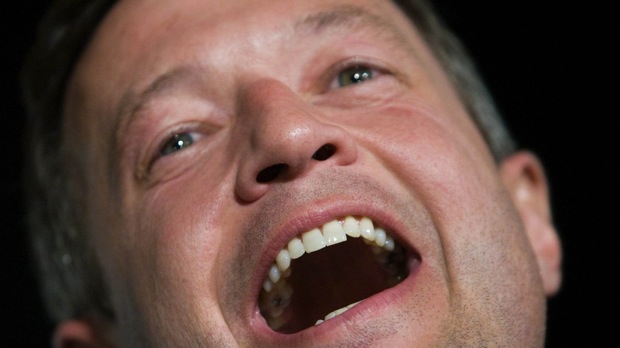 As much as one might want to, one can't strangle, nor even threaten to strangle the governor.
That's what Walter Carl Abbott Jr., of Pikesville, Md., found out, when he was arrested and found guilty of making threats to a public official. Now he's appealing, claiming that his threat wasn't a threat, but a form of protected free speech reports The Times.

Abbott is a construction worker who blames his recent financial problems on illegal immigration. He argues that they undercut his business, working for far less than he's willing or able to. His anger at this is what caused him to, in March 2008, send an angry e-mail to Maryland Gov. Martin O'Malley.

His rant included the sentence: "If I ever get close enough to you I will [w]rap my hands around your throat and strangle the life from you."

Yeah, that's probably a no-no.

As the paper notes, reaction was swift:
A few hours later, Mr. Abbott received a visit from two Homeland Security Department agents along with a Maryland state trooper. He wasn't hard to find: He put his name, address and phone number in the e-mail.

Mr. Abbott said two detectives from another law enforcement agency he could not identify soon showed up, and within an hour he was in handcuffs on his way to see a judge and being asked to turn over his registered Glock 9 mm handgun. "I never said anything about shooting the man," he said.


Politics
Political coverage from NBC4.
He refused a few plea deals, and was ultimately convicted for the threat, receiving a six-month suspended sentence.

But now he's appealing. He's not denying that he sent the e-mail, but he claims that threatening to "strangle the life" from the governor is a protected form of free speech. He claims that the jury was never given the instructions to consider this, tainting his trial.

His lawyer told the paper, "I'm hopeful the court will recognize the First Amendment to be a true and legitimate defense in cases like this. Two jurors told me afterward that they felt like they had no choice but to convict, based on the judge's instructions."

If he wins, the case could be headed for a re-trial, with a new set of instructions for the jury. That way, they could properly determine that threatening to "strangle the life" from someone is a threat, and not a form of protected free speech.
Copyright FREEL - NBC Local Media