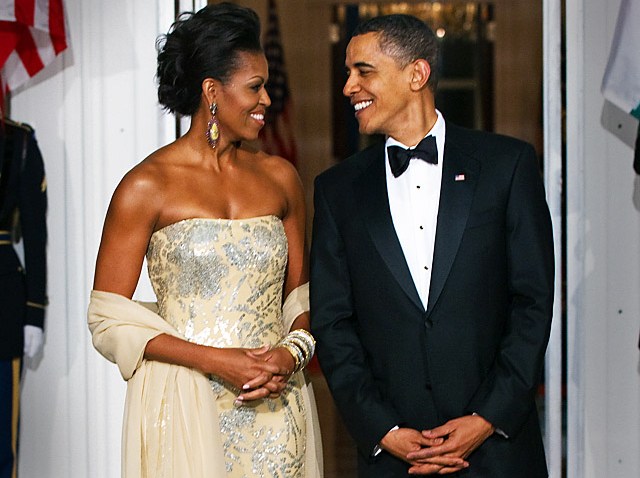 Traditional evening gowns and vibrantly colored saris mixed with banded-collar dinner jackets and tuxedos at President Barack Obama's first state dinner.
There also were turbans and bindis and diamonds aplenty, as several hundred guests put on the glitz and joined a White House celebration in honor of Indian Prime Minister Manmohan Singh.
Outshining them all was first lady Michelle Obama in a strapless, cream and gold silk chiffon gown with a sparkling silver floral design.
Politics
Political coverage from NBC4.
Award-winning singer-actress Jennifer Hudson of "Dreamgirls" anchored an after-dinner entertainment program in a pavillion-like tent on the White House South Lawn. It also included Kurt Elling, a jazz vocalist and composer who, like Hudson, hails from the Obamas' Chicago hometown. A.R. Rahman, winner of a pair of Academy Awards for the music in "Slumdog Millionaire," also was in the lineup.
Under the direction of Marvin Hamlisch, the National Symphony Orchestra kicked off the entertainment with a performance of "Summon the Heroes" by composer John Williams, written as a theme for the 1996 Summer Olympic Games in Atlanta.
The 338-person guest list also was a study in contrasts, mixing wonky Washington, Hollywood talent, prominent members of the Indian community in the U.S. and Obama friends, family and campaign donors.
Guests included Hollywood moguls David Geffen and Jeffrey Katzenberg, and actors Alfre Woodard and Blair Underwood. Spiritual adviser Deepak Chopra, director M. Night Shyamalan and PepsiCo chairman and CEO Indra Nooyi were among those with ties to India.
Katie Couric of CBS News, Brian Williams of NBC News, Robin Roberts of ABC News and CNN medical reporter Dr. Sanjay Gupta were among those representing the media. Fellow Chicagoan Oprah Winfrey was absent, but her best friend, Gayle King, was here.
Obama friends Eric Whitaker and Martin Nesbitt attended, along with Obama's sister Maya Soetoro-Ng, and her husband, Konrad; and Marian Robinson, the first lady's mother. Click here for the entire guest list.
President Barack Obama, in his dinner toast, said the setting conjured images of India, where special events are "often celebrated under the cover of a beautiful tent."
"It's a little like tonight," Obama said, though this wasn't any old tent. It had chandeliers covered in ivy, a beige carpeted floor and giant pots of magnolia branches, native to both India and the U.S., decorating the tent's inside walls.
Singh, in turn, told the president that he was overwhelmed by the Obamas' hospitality and said the president's election last year
had captured the imagination of millions of Indians.
Guests sat in groups of 10 at round tables draped in green apple-colored cloths and napkins, all offset by the sparkle of gold-colored flatware and china, including service and dinner plates from the Eisenhower, Clinton and George W. Bush settings.
Floral centerpieces -- of hydrangeas, roses and sweet peas in plum, purple and fuchsia -- evoked India's state bird, the peacock.
Mrs. Obama brought in award-winning chef Marcus Samuelsson of Aquavit, a Scandinavian restaurant in New York City, to help White House executive chef Cristeta Comerford and her staff prepare the largely vegetarian meal. Singh is a vegetarian.
The menu included potato and eggplant salad, arugula from the White House garden, red lentil soup and roasted potato dumplings or green curry prawns. Pumpkin was served, too, with dinner falling two days before Thanksgiving. Pumpkin pie tart and pear tatin with whipped cream and caramel sauce made up the dessert; the pears were poached in honey from the White House beehive.
Naeem Khan, the Indian-born designer of Mrs. Obama's handmade gown, told CNN's "Larry King Live" that it took three weeks to complete the dress at his family's workshop in India -- with 40 people working on it.
His goals, he said, were to dress the first lady in something "Indian, chic, simple but very glamorous."
Meanwhile, the president, who sometimes pulls evening duty walking the family dog, Bo, apparently got the night off. A White
House worker was seen walking Bo in front of the mansion late Tuesday night as dinner unfolded out back.
Copyright AP - Associated Press