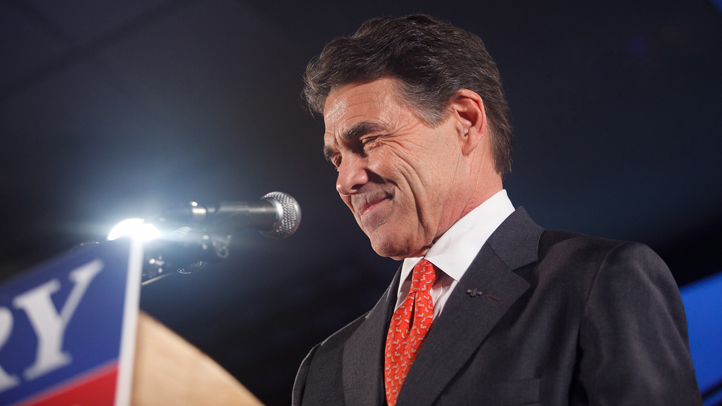 The federal judge hearing a lawsuit by four candidates excluded from Virginia's Republican presidential primary temporarily has blocked distribution of absentee ballots Monday.

U.S. District Judge John A. Gibney ordered the State Board of Elections to direct local electoral boards to refrain from mailing out absentee ballots until after he makes a ruling Friday on the candidates' bid to be included on the March 6 ballot. The hearing is set for Friday morning.

Texas Gov. Rick Perry challenged Virginia's ballot access law last month after failing to obtain the voter signatures he needed to qualify, leaving only former Massachusetts Gov. Mitt Romney and Texas Congressman Ron Paul on the ballot.

Fellow Republicans Newt Gingrich, Rick Santorum and Jon Huntsman joined the lawsuit last week.

Virginia officials have said absentee ballots needed to be printed by Tuesday so they could be mailed 45 days before the election as required by law. In his order Monday, Gibney said state officials should direct local electoral boards to refrain from ordering any ballots until after Friday's hearing.

Virginia Attorney General Kenneth Cuccinelli's office is seeking an emergency review of Gibney's order by the 4th U.S. Circuit Court of Appeals, spokesman Brian Gottstein said.

Justin Riemer, deputy secretary of the State Board of Elections, said absentee ballots must be mailed by Jan. 21 to meet the 45-day deadline. He said the delay in printing ballots will make it difficult to meet that target date. Ideally, he said, the board would have ``several weeks'' to get ballots printed and mailed.

"We're going to do the best we can to comply with the law," Riemer said. "We're already in a condensed time frame."

Virginia's ballot access law requires candidates to submit the signatures of at least 10,000 registered voters, including at least 400 from each of the state's 11 congressional districts.

Perry alleges that Virginia's requirements are unconstitutional because they violate his freedoms of speech and association. He also claims a provision that says signatures must be gathered by a Virginia resident improperly restricts the number of ``message carriers'' and even prevents him from soliciting signatures for his own campaign.
Copyright AP - Associated Press