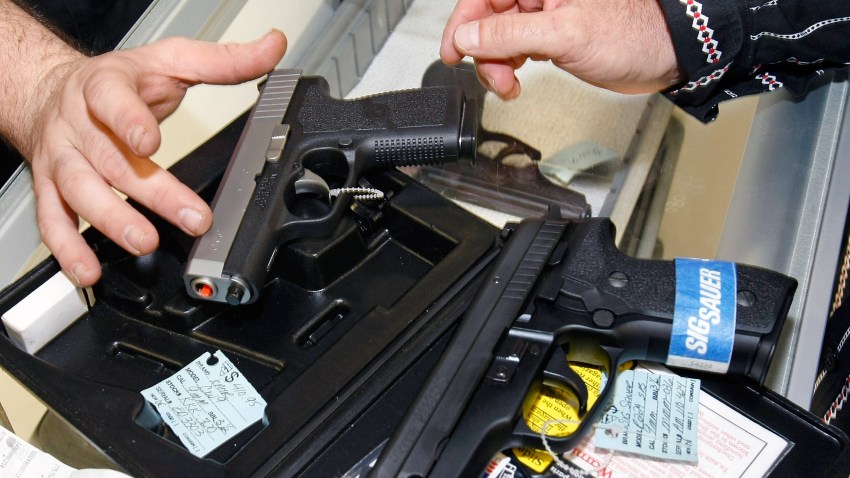 A law that puts a cap on the number of handguns that can be purchased per month in Virginia may be on its way out.
Companion bills that would end Virginia's law limiting handgun purchases to one a month to address the state's reputation as a regional mecca for gun runners advanced in Virginia's House and Senate on Wednesday, according to the Associated Press.

The House passed the measure 66-32 -- mostly along party lines. Two Democrats -- Portsmouth's Johnny Joannou and Washington County's Joe Johnson -- sided with the GOP majority. One Republican, David Albo of Fairfax, voted with Democrats to oppose it.

A similar Senate bill was engrossed overwhelmingly on a voice vote before being reconsidered and delayed for a day, according to the AP.
The law was put into effect nearly 20 years ago by former Gov. Doug Wilder. The Democrat pushed for it after Virginia became a prime supplier of guns used in crimes in major East Coast cities, according to the AP.
First Read — DMV
A place for insight, analysis and exclusives on the people who shape politics in the District, Maryland and Virginia.
There was passionate debate in the House over the bill. Roanoke.com's Blue Ridge Caucus blog breaks down the arguments:
"It is time to trust the technology and the good work of our state police and BATF (federal Bureau of Alcohol, Tobacco and Firearms) and pass this bill," said the House bill's sponsor, Del. Scott Lingamfelter, R-Prince William County.

Del. Joe Morrissey, D-Henrico County, reminded delegates of the conditions that led the General Assembly to pass the handgun limit in 1993.

"Let's be clear what's going to happen," Morrissey said Del. Joe Morrissey. "Some crack addict is going to be given a half a gram of coke, he is going to be given a Virginia driver's license, which he obtains or is given, and he will go into a place and he will buy nine or 10 Glocks or .357s of whatever. Not making it up – it's what would happen 20 years ago. And we will return to the days where we are the gun capital of the South."
Passionate, indeed.
Norman Leahy at the Bearing Drift blog said the following about Morrissey's comments: "Legal lessons from Morrissey ... are to be taken for what they are: venting."