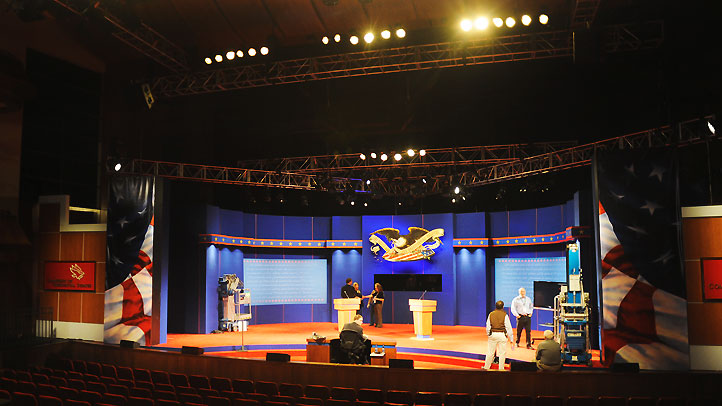 Who qualifies for debates?
In Maryland the ballot for U.S. Senate includes four candidates. They are: Incumbent Sen. Ben Cardin (D), former Secret Service agent Dan Bongino (R), think-tank president Dean Ahmad (Libertarian) and businessman S. Rob Sobhani (independent).
Cardin and Bongino secured their spots in the November election by winning contested party primaries. Ahmad earned the right to represent his party through a nominating process. Sobhani, who has twice run for U.S. Senate in Maryland as a Republican and lost both times in the primary, ran a petition drive. He needed 34,713 signatures to qualify.
First Read — DMV
A place for insight, analysis and exclusives on the people who shape politics in the District, Maryland and Virginia.
Sobhani's campaign finance reports include payments totaling over $47,000 for signature gathering and related expenses.
In other words, a groundswell of grassroots support did not put Sobhani on the ballot; dollars did.
In addition to the money Sobhani spent on ballot access, he has also opened his wallet to pay for a television advertising blitz.
Oh yes. His wallet.
Sobhani's campaign is funded by Sobhani.
Again, no popular base of support. Just a self-funded crusade.
Now Sobhani wants to be included in debates. He cites a poll that shows him tied for second with Bongino.
The poll of registered voters --not likely voters-- was conducted in the days after Sobhani's television advertising spending spree.
A lone poll that tests the opinion of many people who will not vote does not legitimize a candidate.
A lone poll that is conducted in the days after an advertising campaign does not legitimize a candidate.
And buying a spot on the ballot certainly does not legitimize a candidate.
Sobhani has a long way to go before he earns a spot at the debates.
To date, his self-funded campaign has not even merited enough attention to clear one of the first hurdles of legitimacy: scrutiny.
In fact, until Sobhani's proves himself by demonstrating popular support, it is hardly worth the effort to look into his global energy business dealings and media appearances where he may have failed to properly disclose conflicts of interest.
The race for U.S. Senate in Maryland is Cardin's to lose; not a single analyst sees the incumbent in jeopardy of suffering an upset. That, however, is no reason to turn the election into a circus with Sobhani in the center ring.
Allowing Sobhani into the debates would also send the wrong message at a time when there is great concern about the influence of money on elections.
If a self-funded candidate touting a lone poll can worm his way into legitimate debates, what more proof will be needed that in America money can buy anything?
---
Chuck Thies is a political analyst and consultant. His columns appear every Tuesday and Thursday on First Read DMV. He co-hosts "DC Politics" on WPFW, 89.3 FM. Since 1991, Chuck has lived in either D.C., Maryland or Virginia. Email your tips and complaints to chuckthies@gmail.com or tweet at @chuckthies.