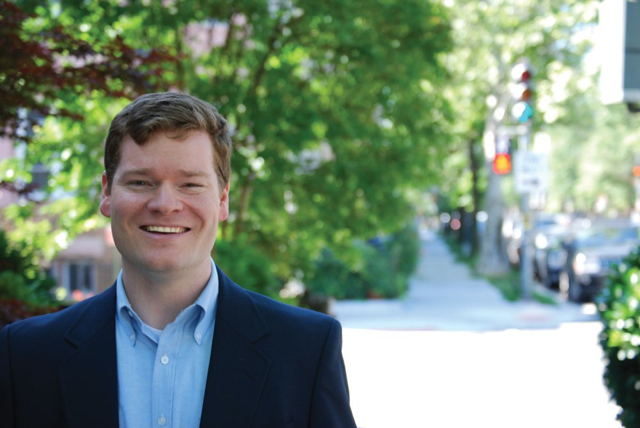 The newest at-large member of the D.C. Council was sworn-in Tuesday morning. The D.C. Democratic Party installed its boss, Anita Bonds, to the post.
If you believe elected officials should instead be, um, elected, circle this date on your calendar: April 23, 2013. That is the day of the special election when voters decide who gets to fill the seat.
The District held a similar election two years ago. Vincent Orange won that contest. Second place went to Patrick Mara, the Board of Education member who represents Ward One, the District's most diverse collection of neighborhoods.
First Read — DMV
A place for insight, analysis and exclusives on the people who shape politics in the District, Maryland and Virginia.
In hindsight, Mara may have been robbed.
Orange's campaign was financed in part by "suspicious" funds. That is not my word choice. "Suspicious" is the word Orange himself used to describe the money orders.
On Wednesday, Mara announced he is running against Bonds.
Bonds is an old guard political operative. Her roots in District elections date back to Marion Barry's first campaign.
The old guard is on the ropes. Big money from fat cat donors is drying up. Maybe they are spending it on fancy lawyers or maybe they are squirreling it away. Hacks who orchestrate illegal shadow campaigns are similarly hamstrung.
So this time around maybe Mara has a fair shot.
That is not to say Mara will cakewalk into City Hall. Not only does he have to battle old guard forces who have proven they will do just about anything to win, but Mara also has to battle prejudice. You see, he is a Republican. And even though Mara is pro-choice, pro-gay marriage and on the liberal side of moderate, Mara's opponents will use the GOP label to vilify him.
When it comes to demonizing Mara, Bonds can deploy the local Democratic Party machine to do the dirty work. She has decided to stay on as its boss during the election. Bonds will also have Barry's support on which to rely. The mayor-for-life has already predicted victory for his longtime aide and ally.
There are other candidates in the race and more are expected. A. J. Cooper, Matthew Frumin, Jon Gann, Perry Redd, John F. Settles and Paul Zukerberg have announced. Cooper ran at-large in November and came in fifth. Zukerberg is hoping a marijuana legalization "tsunami" sweeps him to victory.
Councilmember Michael Brown, who voters ousted in November, is believed to be weighing a bid.
Some wonder if Kwame Brown is ready to return to politics. Ha. Don't get me started…
Back to Mara.
When he announced his candidacy on NewsChannel 8, Mara pointed to a turn in events. He said that his 2011 campaign was all about education reform, but then a series of political scandals enveloped the District.
The media and voters stopped talking about education and became fixated on criminal probes, ethics and a long list of unanswered questions.
Mara says he wants the discussion to return to students, teachers and schools.
I suspect others in the race will follow Mara's lead. It sounds like a winning message to me.
Ironically, Mara's strategy may help Bonds, who most certainly does not want the campaign to be about ethics. The questionable circumstances by which she arrived to the Council may now be a thing of the past, but during her first full day on the job Bonds wasted no time violating the public trust.
During a televised interview Bonds said that the District should "pay a little more attention to the repair of these streets."
The newly-minted Council member neglected to tell viewers that her employer is one of the biggest paving and road maintenance contractors in the city.
April 23 can't arrive soon enough...
---
Chuck Thies is a political analyst and consultant. His columns appear every Tuesday and Thursday on First Read DMV. He co-hosts "DC Politics" on WPFW, 89.3 FM. Since 1991, Chuck has lived in either D.C., Maryland or Virginia. Email your tips and complaints to chuckthies@gmail.com or tweet at @chuckthies.