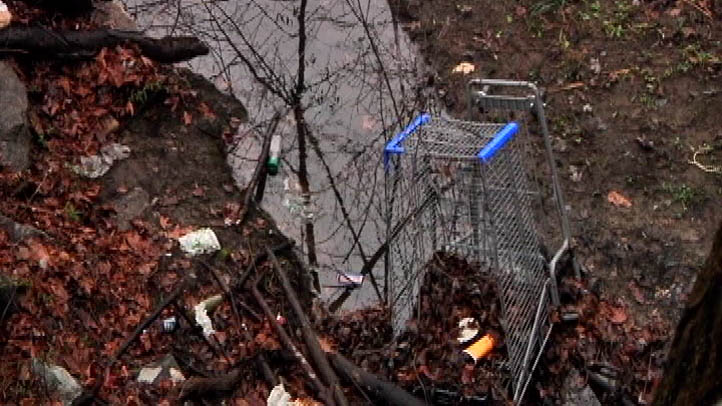 As Virginia's General Assembly convenes in Richmond, lawmakers are introducing and deciding on hundreds of bills, and each year, a few of those bills seem to spark conversation.

HB 2011 stands out this session. It aims to create harsher penalties for those who've abandoned property.

The bill was introduced by State Delegate Scott Surovell, D-Fairfax County. He was motivated to introduce the legislation after finding more than 100 shopping carts dumped in an Alexandria creek.

"I just couldn't believe it when I saw them there," Surovell said. "It takes so long to get them all out. We've got to do something about it."

Surovell explained how HB 2011 would be enforced if it becomes law.

"If the county notifies a retailer that their carts are in a creek, and the retailer doesn't do anything about it in a certain period of time, the county can remove the cart then hold the retailer accountable for the cost of removing," he said.

Friends of Little Hunting Creek President Betsy Martin is getting tired of the litter mess. She's spent 10 years of her life cleaning up those spots.

"It sort of seems like people who maybe don't have cars bring stuff back here and instead of taking the cart back, they just shove it down the hill into the creek," Martin said.

The carts come from a variety of nearby stores -- Home Depot, Walgreens, TJ Maxx -- but the majority come from Walmart

In a statement, Walmart spokesperson Kayla Whaling told News4:

"We understand that shopping carts have been left in this area [and] are working with a third party company to help pick up our carts on a regular basis.

"We want to be a good neighbor in every community we serve. As part of our continued efforts, we have donated $5,000 to the Friends of Huntley Meadows Park to help with future cleanup efforts and the store is organizing an associate volunteer day to help pick up litter, debris and any stray carts will be returned to the appropriate stores, regardless of who they belong to.

"Our store has cart pushers who regularly monitor the parking lot and surrounding area. If they see a cart off the property, our associates will go get them and push them back to the store. If a customer sees a cart, they can let us know and we would be happy to get it."

Surovell suggests stores track the carts and keep them from leaving the parking lots.

Martin said she just wants something done.

"I want to be out of the business of picking up litter," she said. "I don't want to do it anymore. It's a waste of my time, and people should be picking up after themselves."