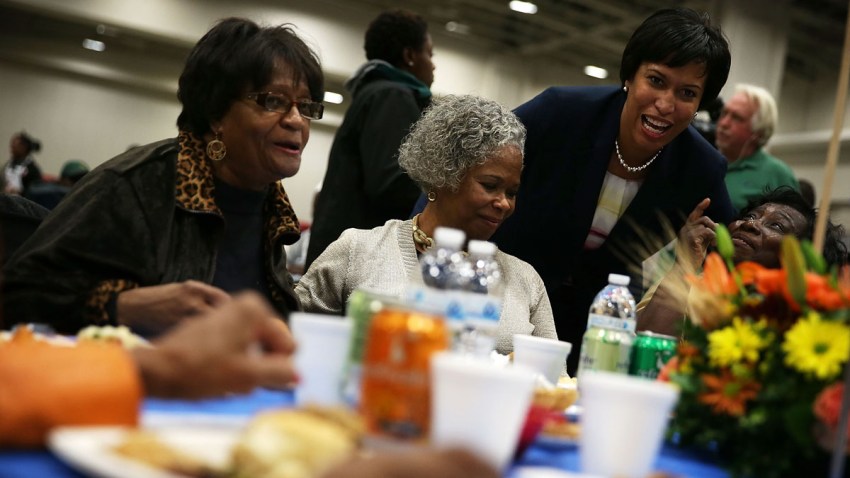 The Notebook wishes everyone a happy and hopeful new year.
Before we take a holiday break, we offer a few doggerel thoughts.
A Refresh Button. For Mayor Muriel Bowser.
First Read — DMV
A place for insight, analysis and exclusives on the people who shape politics in the District, Maryland and Virginia.
The mayor's first year was good overall,
Though the homicide spike cast a big pall.
One big stumble, a money-grab attack.
Her "friends," they labeled their new scheme FreshPAC.
For anyone else, it only fell flat.
At minimum, it was done with her consent,
Developer friends chasing dollars and cents.
FreshPAC was to be her million-dollar shield,
Against all who, 'fore Bowser, declined to kneel.
Her too-soon anxious eye fixed on re-election,
Should have left some time for a bit more reflection.
By year's end, even Post editorial friends,
Were asking quite seriously where it would end.
Pepco and Exelon, merger already suspect,
Got caught up in the odd doings of dear ol' FreshPAC.
The mayor did finally say,
The PAC most foul would go away.
No, not a bad-idea retraction,
Just that it became a big distraction.
FreshPAC, it smelled bad right from the start,
In ending it, at least Bowser looked smart.
It's an old lesson, one ever relearned.
In politics, it's friends who get you burned.
Some folks see Bowser as the route to riches untold.
It'll be up to her to keep them out of the fold.
Her promise to bring prosperity to all eight wards,
Holds headaches galore, if she won't slam that sleazy door.
A Restart Button. For Vincent Gray.
Yes, surely it's even a cliche to say,
But Christmas came early for dear Vincent Gray.
Years in the sights of prosecutors who snooped,
Came word in December, their probe was just pooped.
Now the once mayor eyes a council victory tour,
Around town at-large, or at least Ward 7 for sure.
And out of that legal "shadow," and back on the trail,
Maybe it'll be time for Mr. Gray to detail,
How his closest supporters, wanting him to win,
Cheated and schemed and, somehow, it was news to him.
A Reboot. For Everybody.
Soon all the tinsel we strung will be down,
Gone in the trash with barely a frown.
And the glow of all the New Year's Eve bling
Will be just a memory starting '16.
The issues and problems and hopes won't go away,
We're just getting started, heading every which way.
Income disparity, between the haves and have-nots,
A problem to solve; in D.C. we'll give it a shot.
The voters might vote, if given the chance,
For $15 an hour, the wage to enhance.
And babies, yes they are all cute without compare,
But many new parents struggle with unpaid care.
So maybe 16 weeks' paid leave for mom or pop,
Could become the new standard unless it is stopped.
And for potheads in town (you know who you are)
Who wish for pot parties in clubs with a bar,
You'll have to wait till the council no longer fears
Interference from Congress coming down severe.
And before we leave you, our bad rhyming all done,
We must mention tickets, bane of everyone.
New ways to ding you, to flatten your wallet,
Are just straight ahead, no matter what you call it.
Even sweet Santa, who is now on his way,
Had better watch out or they'll ticket his sleigh.
Tom Sherwood, a Southwest resident, is a political reporter for News 4.