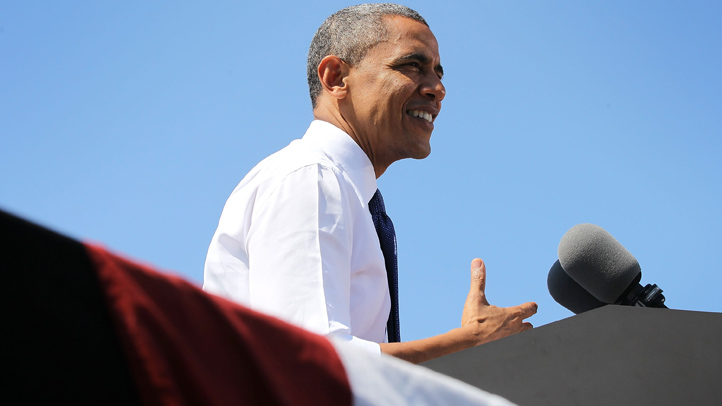 Turning up the heat on Republican Mitt Romney's campaign stumble, President Barack Obama on Friday accused his rival of writing off half the country while defending his own remark that "you can't change Washington from the inside."

"We don't want an inside job in Washington, we want change in Washington," Obama told a rally in Virginia, one of a handful of tightly contested states where the election is being fought heading into its final six weeks. "It can't happen if you write off half the nation before you even took office."

Obama was referring to a secretly recorded video that emerged this week in which Romney told donors that 47 percent of Americans don't pay income taxes and are dependent on government and "my job is not to worry about those people." But the video has become so ubiquitous in the campaign that he didn't even have to explain the reference to draws cheers from his supporters.

Obama discussed the choice between moving the country forward with his vision for creating an economy built to last or going back to top-down economic policies.

"My opponent has a plan, too, but as Bill Clinton pointed out, there's no math in it," Obama said.

Meanwhile, Romney's campaign disclosed that he paid nearly $2 million on more than $13 million in income last year, mostly from investments, for an effective tax rate of 14.1 percent. The Republican's low tax rate was bound to be an issue in the campaign with issues of wealth and income taxes becoming more prominent with the revelation of the video this week.

Obama and Republican vice presidential nominee Paul Ryan attacked one another over their plans for Medicare, the popular federal entitlement program for seniors, as both campaigns tried to woo older voters at an AARP convention in New Orleans.

Ryan was booed when he said he and Romney would repeal Obama's health care program. But he argued that Obama's health care law has weakened Medicare and said the Republican ticket would give seniors more choice in their health care coverage if elected.

"Mitt Romney and I share your concerns, and we respect you enough to level with you," Ryan said. "We respect all the people in this country enough to talk about the clear choices we face on Medicare, Social Security, the economy, and the kind of country our children will inherit."

Americans 50 and over -- the age that qualifies for AARP membership -- are an especially important demographic for the candidates to persuade because they register in greater numbers those who are younger and are almost twice as likely to cast their ballot. An Associated Press-GfK poll that was released this week found Romney was favored by seniors likely to vote, 52 percent to 41 percent for Obama.

Obama was airing an ad Friday in Colorado, Florida and Iowa that argued Romney and Ryan would turn Medicare into a voucher program that could raise seniors' health costs by up to $6,400 a year.

But Obama conceded Friday, in response to a question posed during the AARP address, that that increase is based on a previous plan presented by Romney's running, Paul Ryan. Indeed, Romney would offer Medicare beneficiaries a choice between staying on traditional Medicare or to purchase private insurance through a voucher-like system.

But Obama, delivering his most expansive and detailed argument against Romney's Medicare plan, said that despite that choice, seniors would still suffer because only the healthiest would benefit from purchasing private insurance with a voucher plan while older Americans with greater health care needs would face rising premiums under traditional Medicare.

Ryan, speaking about an hour later, said describing it as a voucher was a "poll-tested word to scare seniors" when the idea is to force insurance companies to compete against each other to better serve seniors.

Ryan also said he and Romney want to raise the retirement age for Social Security and slow the growth of benefits for higher income earners to keep the program solvent.

Obama, who has not offered a comprehensive plan to address Social Security's long-term financial problems, said he would consider increasing the cap on Social Security taxes so that higher earners would pay slightly more toward the Social Security fund. Currently, the Social Security tax applies to income up to $110,100 in income.

"I do think that looking at changing the cap is an important aspect of putting Social Security on a more stable footing," he said.

Romney was holding a campaign rally Friday in Nevada, where he was expected to continue pressing Obama on his comment Thursday that "you can't change Washington from the inside. You can only change it from the outside." Romney's campaign argued the president was admitting he failed to create the hope and change he ran on in 2008.

"I can change Washington," Romney said Thursday. "I will change Washington. We'll get the job done from the inside. Republicans and Democrats will come together."

The president's campaign countered quickly by noting that Romney said exactly that in 2007, when he was running for the 2008 Republican nomination: "I don't think you change Washington from the inside. I think you change it from the outside."

Obama mocked Romney for jumping on his remark so quickly. "What kind of inside job is he talking about?" Obama said. He questioned whether that meant Romney would rubberstamp the agenda of congressional Republicans or let oil companies run the country's energy policy.
Copyright AP - Associated Press