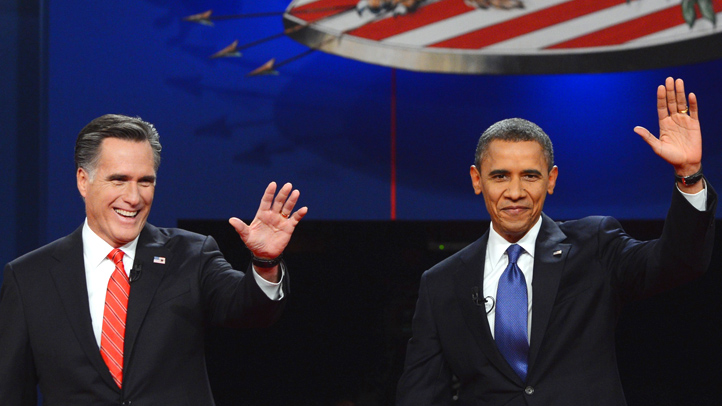 On Oct. 15, 2008, Barack Obama led John McCain by eight percentage points in Virginia.
Today, Obama and GOP challenger Mitt Romney are separated by less than one point; a statistical dead heat.
National polls and those conducted in swing states paint a similar picture.
First Read — DMV
A place for insight, analysis and exclusives on the people who shape politics in the District, Maryland and Virginia.
The conditions are perfect for a truly epic contest as the two candidates prepare to square off tonight in the second of three presidential debates.
This is how elections should be. Uncertainty attracts attention, more voters get involved, dynamics become increasingly fluid. A combination of principles, character, fortitude, strategy, tactics and possibly miscues will tip the balance to one camp or the other.
Competing ideas, one goal: A better America.
And Virginia is once again among the handful of states that will decide the presidency.
In September, Obama led Virginia by as many as five points. Four polls had the president winning 50 percent or more of the vote. In early October, two polls had Obama at or above 50 percent.
But then the worm turned. Romney's numbers climbed and Obama's slid.
Did the president's lackluster performance in the first debate hurt him? Perhaps, but half of the polls taken in Virginia during the days immediately after the debate showed Obama leading.
My theory is that after voters had the opportunity to view Romney in an unscripted setting they became more familiar with him as a person and more comfortable with how he explains his policies. Romney also had room to grow in the polls, while Obama may have reached his ceiling.
The task for each candidate tonight is tremendously challenging.
Obama needs to bring his A-game, but not in a manner that says "I'm bringing my A-game because I flopped at the first debate." He has to win on style and substance. He also needs to be presidential. Obama did not convey leadership the last time America saw him in action.
Romney needs to improve, too. His debut debate was stellar and as a result expectations are high. Momentum is vital to challengers. It is also fickle and sometimes fleeting. Romney must handle Obama's comeback bid deftly and provide the audience with something more to talk about than simply who won and who lost.
Like many notions about this election, the idea that "debates don't matter" is a thing of the past. Idle chatter.
From now through Nov. 6, the candidates and campaigns are exploring uncharted territory in Virginia and across America.
---
Chuck Thies is a political analyst and consultant. His columns appear every Tuesday and Thursday on First Read DMV. He co-hosts "DC Politics" on WPFW, 89.3 FM. Since 1991, Chuck has lived in either D.C., Maryland or Virginia. Email your tips and complaints to chuckthies@gmail.com or tweet at @chuckthies.