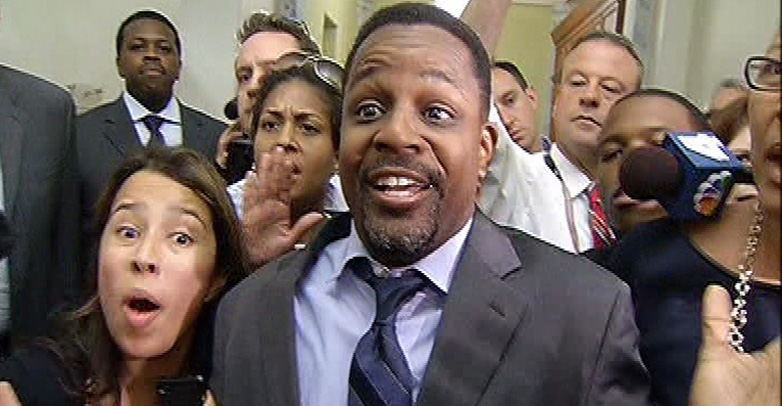 What will become of D.C. politics in the wake of the latest scandal?
Last week D.C. Council Chairman Kwame Brown resigned from his post and pleaded guilty to fraud charges. This came just weeks after former D.C. Councilmember Harry Thomas Jr. was sentenced to three years in prison for stealing city funds.
Now many are wondering how the city will clean up its image -- and what, if any, are the national implications of the corruption rocking the nation's capital.
First Read — DMV
A place for insight, analysis and exclusives on the people who shape politics in the District, Maryland and Virginia.
Here are some columnists' takes:
Post columnist Courtland Milloy asks if D.C. Council member Phil Mendelson could be the first white mayor of the District since 1973.
Imagine that. The successive string of black mayors dating to home rule in 1973, broken. The collapse of black mayordom in the District -- not the job, but the institution, where racial inheritance is a requisite for top leadership. No more.

The prospect is no doubt as uplifting to some as it is depressing for others. Either way, it's disgraceful how the prize might be lost.

Here's how it could happen:

A council vote Wednesday makes Mendelson (D-At Large) the chairman, filling the seat vacated by Kwame R. Brown, who resigned last week after pleading guilty to bank fraud. That puts Mendelson in line to succeed Mayor Vincent C. Gray if a federal investigation into his campaign finances turns up enough dirt to force him out of office.

A council vote and a prosecutor's lightning bolt and Mendelson, 59, makes history, reluctant though he may be to do so.
In an op-ed in the Post, NBC Washington's Tom Sherwood asks what D.C. residents will do to reclaim their town's dignity and image.
Too often, many local residents act like passengers on a plane, content to sit down and ride out any turbulence. Will that be the case once again? The recent Ward 5 special election to replace the jail-bound Thomas appeared to be a positive step, with qualified candidates who didn't shy away from ethics issues, but it's too early to tell. One positive sign: An energetic citywide group is gathering signatures to place an initiative on the fall ballot that would ban corporate contributions to local campaigns. Although corporate money will no doubt find other ways into campaigns, residents at least are taking action that the D.C. Council wouldn't take.

On Wednesday, the sitting 12 council members will convene to pick a temporary chairman who will serve until a special election -- probably to be held on the same day as the Nov. 6 general election. Elected officials and citizen groups already are weighing who will run for chairman and who will wait to see if there will be a special election for mayor. Whether we like it or not, we're all in campaign mode now.

In talks I give around town about D.C. politics, I usually end on this note: "Local Washington is only as good as the people active in it." This is the heart-wrenching question raised by all this: Just how good is local Washington? We're about to find out.
Greater Greater Washington's Elissa Silverman writes that while Brown is certainly "flawed," he had some noteworthy accomplishments during his time on the council.
Perhaps Brown's most significant achievement was his role in elevating the DC Council's budget office from a bean-counting operation to a muscular, policy driven office that identifies priorities and takes a serious and comprehensive approach to budget oversight.
Silverman adds that DC voters "bear responsibility for ignoring the red flags about Brown early on."
We should also hold ourselves accountable to do a better job of picking our leaders. There were red flags about Kwame Brown from the very beginning of his political career. He wasn't truthful about his voting record, he embellished his resume, and he used politics as a way to employ close family and friends. This was years before his efforts to acquire a "fully loaded" SUV on the public's dime and even before we knew about his "Bulletproof" boat and the debts that ensued.

We should have seen these red flags waving, but Brown got a pass from voters in all parts of the city. We must learn to take a much more active role in the selection of our political leaders and to hold them accountable once they get in office. We shouldn't rely on the US Attorney to clean up the messes we helped make.
The Washington Post traces D.C.'s deep-rooted political corruption and explains that while corruption has persisted over the decades, the political landscape of D.C. is vastly different from the mayoral days of Marion Barry.
Four years ago, as Mayor Adrian M. Fenty faced an increasingly disaffected electorate, a trio of D.C. Council members began positioning themselves for greater power.

One would ride Fenty's troubles to become the city's next mayor. Another would rise to capture the council chairmanship. A third would assume more influence over the District's economic development projects with an eye on citywide office himself.

Vincent C. Gray, Kwame R. Brown and Harry Thomas Jr. were viewed by their supporters as homegrown heirs to the best parts of former mayor Marion Barry's legacy. They were African American Democrats who understood the city's complex racial history and hoped to shape its future. They would redeem a generation of black political leadership tainted by Barry's personal foibles and fiscal mismanagement.

Instead, the men have plunged the District into a new round of crisis, triggering reminders of the worst aspects of the Barry era and fears that the city's political culture is regressing.
* The Virginia GOP primary is Tuesday, and while many expect the Senate race to be little more than a coronation for Sen. George Allen, the other three Republicans have waged spirited campaigns.
Here's a review of the platforms and campaigns of Minister E.W. Jackson, Tea Party activist Jamie Radtke and state Del. Bob Marshall.

* It was a bad week for Democrats and even one the party's biggest players knows it.
Gov. Martin O'Malley appeared on "Face the Nation" Sunday and acknowledged that Democrats have "had better weeks" as he spoke about the fallout of the Wisconsin recall election, according to the Post.
He said Republican Gov. Scott Walker's victory Tuesday was an indication that a majority of Wisconsin voters think "we shouldn't have recall elections for policy reasons."
But the good news for Democrats, he said, is that he doesn't think the results will be linked to Obama's fate in the fall.
* Miss the Pride Parade in D.C. over the weekend? Check out City Paper's photo gallery from the event.
* The White House will host its first Hispanic summit in Montgomery County next week at Montgomery Blair High School, according to the Post.
White House officials and local Hispanic leaders will gather at the summit to discuss policy issues.
The Post reports that Rep. Chris Van Hollen (D), Lt. Gov. Anthony Brown (D) and County Executive Isiah Leggett (D) will all be in attendance.
* D.C. Councilmember Jim Graham is questioning the high number of assaults at the city's juvenile detention facilities after two youth recently attacked officers in separate incidents.
According to The Washington Times, from March 3 though May 12 there were 68 fights and assaults reported at the New Beginnings Youth Development Center.
Via the Times:
"I think we can all agree that there is something very wrong here," Graham said, adding that the model program in Missouri on which New Beginnings is based has nowhere near the same number of assaults.
Graham, who chairs the Human Services Committee which oversees the Department of Youth Rehabilitation Services, is requesting more information about the most recent incidents.