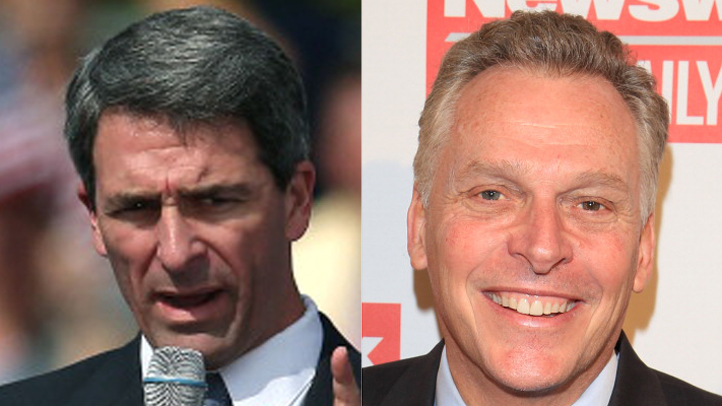 Democrat Terry McAuliffe has opened up a slight lead against Republican Ken Cuccinelli, with the latest Quinnipiac poll showing him with a 43-38 percent advantage.
The race is still considered a toss-up. A Quinnipiac poll in late March had the race in statistical tie, with Cuccinelli leading 40-38 percent. A Washington Post poll in early May showed Cuccinelli leading 5 percentage points among registered voters, and ten percent among likely voters.
The biggest challenge for both candidates leading up to Election Day will be to get their names out there. Both candidates are still relatively unknown to voters, with 60 percent of voters saying they don't know about McAuliffe to have an opinion about him and about 40 percent of voters saying they don't know enough about Cuccinelli.
First Read — DMV
A place for insight, analysis and exclusives on the people who shape politics in the District, Maryland and Virginia.
The poll surveyed 1,286 registered voters and has a margin of error of 2.7 percentage points.
IN OTHER NEWS:
* Lt. Gov. Bill Bolling is creating a PAC, Virginia Mainstream Project, focused on electing mainstream GOP candidates to Virginia's General Assembly. (Virginian-Pilot)
* Ken Cuccinelli hired former Democratic Attorney General Anthony Troy to lead the case pending against a former chef at Virginia's Executive Mansion. (News4)
* Some D.C. Council members are crafting legislation to lessen the penalties for marijuana possession. (Washington Post)
* Gov. Martin O'Malley is scheduled to sign his major gun-control legislation today at a bill signing ceremony. (AP)
* Maryland Lt. Gov. Anthony Brown—who recently announced he would run for governor—is standing in for Gov. O'Malley Saturday to present the winner of the Preakness Stakes in Baltimore. (Washington Post)
* Some statistics on how people commute in D.C. (Washington City Paper)
* The crowded GOP race for lieutenant governor is still wide open. (Virginian-Pilot)