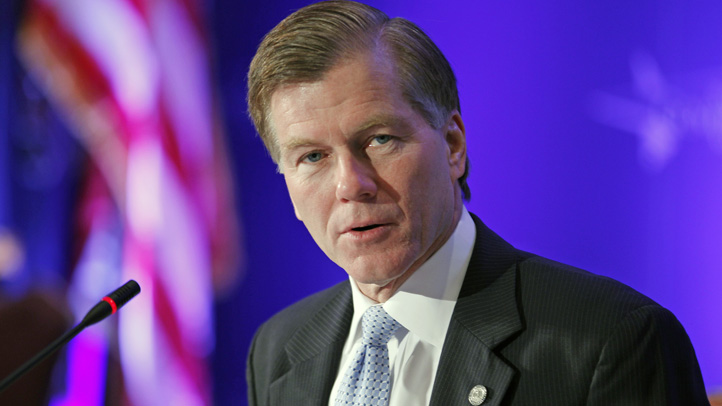 In the past few weeks, new information has revealed apparent ethical problems in both Virginia Gov. Bob McDonnell's and Attorney General Ken Cuccinelli's relationship with Star Scientific, a Henrico-County based company now the subject of a federal securities investigation.
For his part, McDonnell allowed the company's CEO to pay for the catering at his daughter's wedding.
Since the gift was to a family member and not to him, McDonnell was not legally required to disclose it, and he didn't -- but it seems to be considered an ethical lapse.
First Read — DMV
A place for insight, analysis and exclusives on the people who shape politics in the District, Maryland and Virginia.
And when Star Scientific filed suit against Virginia in 2011, Cuccinelli said he wasn't aware of the suit, and bought $10,000 in company stock to add to the $10,000 of stock he already owned.
By law, he is required to report his stock holdings, but he didn't do that for more than a year because he said he was unaware his holdings exceeded the $10,000 threshold. After public pressure, he ultimately said he had a conflict of interest and hired an outside firm to handle the case.
Over the weekend, columnists and editorial boards weighed in on the controversy.
Washington Post columnist Robert McCartney provided three reasons why McDonnell's wedding gift controversy should spark outrage, including:
"...[t]he excessive permissiveness of Virginia's laws on contributions to politicians. A year ago, it was one of eight states that received a failing grade in a survey of integrity laws and policies by the nonpartisan State Integrity Investigation."
The News Leader Editorial Board wrote that both McDonnell and Cuccinelli should have known better:
"Conflicts of interest are not easy to avoid when raising millions of dollars to get elected. But avoided they must be. Our governor and attorney general should have been wiser, all the way around."
And the Virginian Pilot Editorial Board says:
"The episode is the type of affair that sows public distrust of politicians. It begs, at a minimum, to be investigated by an independent statewide ethics commission."
IN OTHER NEWS:
* The Washington Post Editorial Board reccomends two proposals Maryland Gov. Martin O'Malley could work on during his final two years in office, including putting Maryland on a "better trajectory toward affording its obligations to retired state government workers by increasing employee contributions and tightening benefits." (Washington Post)
* The Baltimore Sun Editorial Board gives some more recommendations for the Maryland governor. (Baltimore Sun)
* And the counterintuitive take: O'Malley's successful year of pushing high-profile liberal initiatives through Maryland's legislature could undermine his 2016 hopes. (The Hill)

* The D.C. Public Charter School Board is scheduled Monday to review requests to increase enrollment at 11 schools, (Washington Examiner)
* Former Anne Arundel County Executive John Leopold is out of jail after a 30-day sentence for misconduct in office. (News 4)
* In his radio address Sunday, D.C. Mayor Vincent Gray urged residents to vote in favor of a ballot question next week that would free the D.C. budget from congressional control. (Washington Times)
* Since the federal government won't fund Norther Virginia's controversial streetcar line along Columbia Pike, local lawmakers are trying to tap into the state's new transportation fund for money. (Washington Examiner)
* Virginia's lieutenant governor race has a packed field, and it's an important race: Whoever wins will preside over the evenly divided Senate and be a leading contender for governor in four years. (Washington Post)