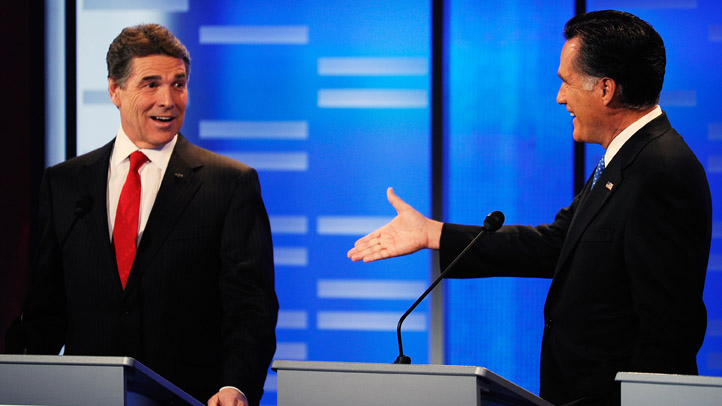 Well Virginia Republicans, who are you going to vote for in the March 6 primary? If you haven't made up your mind, you're not alone. Some very high-ranking GOPers in the state are right there with you.
The Washington Post reported that, as of Friday, "not one of Virginia's eight Republican members of Congress had lined up behind a presidential candidate, even as many colleagues in other states had taken the plunge."
So those who many look to for leadership aren't finding it. As southwestern Virginia Rep. H. Morgan Griffith told the Post, "We've just decided individually ... to sit out" for now.
First Read — DMV
A place for insight, analysis and exclusives on the people who shape politics in the District, Maryland and Virginia.
Of course, it may not matter much if more candidates don't get on the ballot. As of now, Mitt Romney and Ron Paul are the only two who jumped through all the hoops to get on the ballot. Rick Perry continues to fight to get on, however. The Washington Times reported that Perry has appealed a federal judge's ruling that keeps him off the ballot. His logic? The Times reported that "Mr. Perry's attorneys argue that the U.S. District Court in Richmond abused its discretion Friday when it ruled Mr. Perry's lawsuit was filed unreasonably late in the proceedings" and that "the residency requirement for ballot-gatherers was a violation of free political speech."
A response is expected sometime Monday.
* While the Virginia GOP may not be able to back a candidate for president just yet, they're wasting no time taking advantage of their new power in the General Assembly. According to the Washington Examiner, "one of the GOP's first acts as the new majority in the state Senate last week was to stack the Senate Education and Health Committee with some of its most ardent pro-life members, increasing the likelihood that abortion measures routinely rejected in years past under Democratic control will now actually reach the governor's desk."
Meanwhile, expect to see some big battles over abortion in the new legislative sessions. The "personhood" bill, which under some interpretations could make abortions illegal, will be up for debate. Another bill would require women to undergo an ultrasound exam before proceeding with an abortion, according to the Examiner, while another would "eliminate funding for abortions offered to low-income women who are pregnant with a child who has a severe physical deformity or mental deficiency."
* Both George Allen and Tim Kaine issued statements Monday in honor of Martin Luther King Jr.
George Allen said:
"Today, and every day, we remember and honor the life and legacy of the Reverend Dr. Martin Luther King, Jr., whose mission of equal opportunity and freedom continues to inspire Americans to unite under the empowering thread embodied in our Constitution that all men and women are born with the same God-given inalienable rights to life, liberty and the pursuit of happiness.
"Dr. Martin Luther King, Jr. was a champion for freedom and justice for all people and his spirit has strengthened the bonds of our nation as we continue our journey to become a more perfect union. His courage to stand up for his core convictions and what was right in the face of bigotry and injustice will help define leadership and sacrifice for generations of Americans.
"Today we reflect on the remarkable legacy that Reverend Dr. Martin Luther King, Jr. left behind, and every day we work together as a nation to live out his Dream and vision for a better future of equality and opportunity for all."
Tim Kaine said:
"Today we pause to reflect upon the life and legacy of a man whose tireless work for the rights of his fellow citizens still reverberates and inspires. Dr. Martin Luther King, Jr. spent his life reaching across the old lines of division to find common ground and advance the causes of equality and justice, moving our country closer to the more perfect union our founders promised. He knew that change does not come easy, but a just cause is always worth fighting for. As we observe the holiday declared in his honor, I join millions of my fellow Americans in celebrating the work of Dr. King and renew my commitment to honor his legacy by working to find common ground to address our nation's challenges."
* To tax or not to tax Amazon.com? That's a big question in Virginia. The dot-com company currently does not charge sales tax in the state, but many brick-and-mortar stores are pushing for that once Amazon opens two distribution centers in the state, according to InsideNova.com. Some want the commonwealth to follow Texas's lead on the issue. Texas said an Amazon distribution center in its state constitutes a "physical nexus," which means it must collect sales tax on state residents.
Keep an eye on this as the little guy (and some not-so-little guys) try to get on even ground with the online giant.
* There will be a rally in Annapolis Monday afternoon by opponents of capital punishment, according to the Associated Press. They want to see Maryland's death penalty repeals. Some Maryland lawmakers are going to push for the repeal in the current legislative session.
* It's the same question you ask every Monday: I wonder what Mayor Gray was up to this weekend. Luckily for all of us, Yeas and Nays has the answer. The lovely ladies said he did a ribbon cutting on a new U Street gay bar called Mova on Friday night, then had a female companion join him at a new downtown resto call Hamilton. "A Yeas & Nays spy reports seeing the mayor, a bachelor, leave with the woman shortly after 2 a.m. He jumped into the driver's seat of a waiting BMW, with security following him in a Lincoln Navigator, and zoomed down 14th Street."
To get some rest before appearing at the NBC4 Health & Fitness Expo the next morning, no doubt.