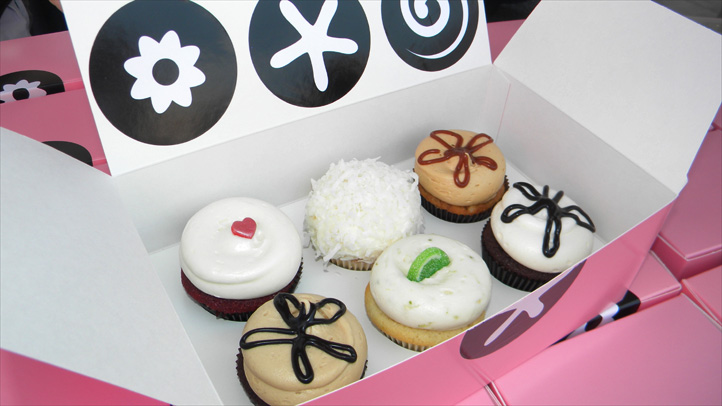 It's not all sprinkles and frosting for D.C.'s most famous cupcake shop. The Washington Business Journal reported that Georgetown Cupcake owes the District $189,000 in unpaid sales taxes.
The District filed a lien against the shop Thursday. Records show that the shop of reality-TV fame failed to pay sales taxes over a three-month period. Including penalties and fees, the cupcake shop owes $69,571.78 from August, $66,363.74 from September and $53,357.19 from October.
Georgetown Cupcake told News4's Derrick Ward the following in an email Friday:
First Read — DMV
A place for insight, analysis and exclusives on the people who shape politics in the District, Maryland and Virginia.
"Georgetown Cupcake has paid its taxes to the DC Office of Tax and Revenue in full, and the Office of Tax and Revenue has acknowledged receipt of payment. The misundertanding [sic] regarding the lien has been resolved, the lien is in the process of being terminated, and we expect confirmation of the termination later today."
The attorney for Georgetown Cupcake admitted to WBJ that there were sales tax returns filed without checks last fall, but the store would be paying the taxes.
If the debt is not paid, the city could take away the store's sales tax certificate, which would essentially shut down the establishment.
Read the full story at Washington Business Journal.
IN OTHER NEWS:
* Breaking with the GOP, VA Lt. Gov Bill Bolling announces his support for Medicaid expansion, saying the state would save $300 million over the next five years by expanding health benefits to more low-income Virginians. (Washington Examiner)
* A Maryland senator proposes to lower Maryland's corporate tax rate from 8.25 percent to 6 percent starting in 2013 tax year. This would make Maryland's rate the same as Virginia's. (Maryland Reporter)
* Arlington County police are not filing charges against the son of Rep. Jim Moran, who was caught on camera seemingly giving a man advice on how to commit voter fraud. (Washington Times)
* This year, the D.C. Office of Tax and Revenue will automatically collect outstanding debt from residents' income tax refunds. That includes unpaid parking tickets and other traffic penalties. (NBC 4)
*Eisenhower memorial critic takes issue with the Eisenhower Memorial Commission's website, which used Photoshop to show the former president in modern settings, for treating Eisenhower with a "lack of dignity." (DCist)
* Democrats slam Cuccinelli's forthcoming book, which apparently shows a "hatred toward those who need government programs to survive." (NBC 4)
* McDonnell's safety task force recommends increasing penalties for illegal gun purchases and under one proposal anyone caught bringing a gun or explosive onto school grounds is punishable by five to 20 years in jail. (Washington Examiner)
* A map of the 59 liquor stores that have applied for a Sunday liquor license in D.C. (DCist)
* Environmentally conscious drivers could face a new fee in Virginia as part of Gov. Bob McDonnell's plan to fund transportation projects, so some hybrid car owners took to the streets in protest Thursday. (NBC 4)
* The Smoggy Awards: Housing Complex gives a rundown of the highest carbon-dioxide-emitting city-owned facilities from the Departments of General Services and Environment's survey of public buildings. (Washington City Paper)
* In a year-end campaign finance report, records show that O'Malley's federal PAC raised just under $191,000 in 2012. (Baltimore Sun)

* A Virginia Senate committee rejected a proposal that would allow undocumented students to receive in-state tuition if they graduate from a state high school, have certain federal paperwork and their parents have paid state income taxes. Legislation—the "Tebow bill"—that would allow students educated at home to play public school sports was delayed in the Senate. (The Roanoke Times)
* Legislation to advance uranium mining in Virginia was shelved for the year, the push to lift the state's uranium ban is losing steam. (The Virginian Pilot)
* Mayor Vincent C. Gray and Ward 5 Councilmember Kenyan R. McDuffie announced Thursday the formation of a 13-member task force to develop a strategic plan for the "modernization and adaptive use" of the industrial areas in Ward 5. (City press release)
* Gov. McDonnell's $3.1 billion transportation proposal won a Senate committee's approval, but faces many more hurdles on the Senate floor. (Washington Times)