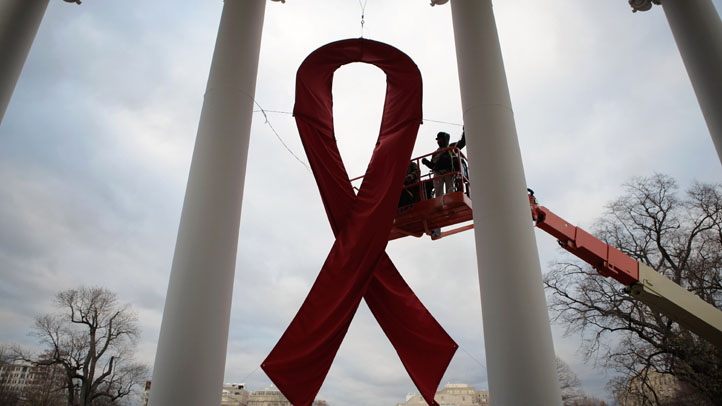 The XIX International AIDS Conference kicks off in D.C. Sunday, and organizers are expecting 20,000 delegates from the around the world to attend the six-day event at the Washington Convention Center.
The conference was last hosted in the District in 1987.
D.C. has the nation's highest infection rates, but has been making a tremendous amount of progress in treatment and prevention in recent years.
First Read — DMV
A place for insight, analysis and exclusives on the people who shape politics in the District, Maryland and Virginia.
''I give him a tremendous amount of credit,'' Pat Hawkins, who holds a doctorate degree in counseling and counselor education, said of Mayor Vincent Gray with regard to the fight against HIV/AIDS, both of them entering that fight at roughly the same time. ''He has been the first mayor we've had who's actually spent part of his career working on HIV/AIDS. He was responsible for the AIDS initiatives when he was director of the Department of Human Services. I think he has always kept that sense of urgency, that sense of commitment about AIDS.''
Metro Weekly has a Q&A with the mayor in which he reflects on his experience with the HIV/AIDS epidemic in the District.
From Mayor Gray in Metro Weekly:
"Given the number of years that I've been involved with this issue, we've seen it evolve from a disorganized approach, almost a panic type of approach, to one that's much more organized, one that has much more focus not only on treatment, but also on improving the quality of life for HIV-positive people, for people with full-blown AIDS. And really organizing the government's resources better than they have been in the past. When I was the director of [the D.C. Department of Human Services], we worked with the Commission on Public Health to create the first five-year strategic plan to address this issue."
For more information on the conference, visit AIDS2012.org
* If Mayor Gray and former Mayor Adrian Fenty were to face off in an election today, D.C. residents would overwhelmingly elect Fenty, according to the results of a Washington Post poll.
These results come after three people involved with Gray's campaign pled guilty to crimes connected to the campaign. The poll also found that 54 percent of resident think Gray should step down from his post.
The criminal probe surrounding Gray's campaign have prompted other councilmembers to mull their own runs for mayor.
But, according to the Post poll, none of the three councilmembers who have expressed some level of interest in the position -- Muriel Bowser, Jack Evans and Tommy Wells -- hold a clear advantage over the others.
Evans, the longest-serving current member of the council, has the highest favorability rating with 35 percent, and 13 percent have a negative view of him. About one in four residents have favorable opinions of Bowser and Wells, and about one in 10 have unfavorable views.
* On Thursday, city officials told members of a House subcommittee that oversees D.C. affairs that amending the century-old law that restricts the building heights in the District would yield big profits.
According to The Washington Times, Harriet Tregoning, director of the D.C. Office of Planning, testified that small changes to the height restrictions could allow those who live and work in the District to effectively use existing space and beautify the growing city.
Buildings in residential areas in the District are currently restricted to 90 feet and 130 feet in commercial areas.
* With both the Senate and presidential races in Virginia appearing to be in deadlocks, the search for Independent voters in Virginia is on.
...[Democrat Senate candidate Tim Kaine] said he thought he could appeal to those who vote for Mr. Romney.

"There will be thousands of Romney-Kaine voters," Mr. Kaine said over a milkshake in Bristol. "Whether it will be 2,000 or 50,000, I don't know."

Kaine campaign aides say the mother lode of Romney-Kaine voters is not in the less populated country roads of southwestern Virginia but in the suburbs of Washington and Richmond. There, some voters may see Mr. Kaine and Mr. Romney as pro-business technocrats -- and Mr. Allen and Mr. Obama as partisan flag carriers for their parties.

But Mr. Kaine is searching for them across this diverse state. The trip to Bristol last week was his third. He has also been to the conservative southwestern towns of Castlewood, Wise and Blacksburg, and he is planning another trip this month, to a health clinic at the Wise County Fairgrounds.
* Maryland Comptroller Peter Franchot wrote in an op-ed in the Baltimore Sun that gambling is not the answer for Maryland.
"Less than three months after the Maryland General Assembly met in a special session to raise the state income tax on many middle-class families, there is a growing likelihood that lawmakers will soon descend on Annapolis again. This latest special session would pave the way for the construction of a new casino in Prince George's County and, in all likelihood, result in a much lower tax rate for Maryland's private casino operators.

With all due respect to Gov. Martin O'Malley and Senate President Thomas V. Mike Miller -- the principal architects of this proposal -- I believe this represents the wrong approach to our state's fiscal challenges and sends the wrong message to the working people of our state.

Awarding tax breaks to the national gambling industry, after we have repeatedly raised taxes on Maryland families and businesses, would represent the most profound misplacement of priorities that I have seen in my 25 years in public life."
* A majority of Fairfax County School Board members said they were in favor of changing admission policies for the Thomas Jefferson High School for Science and Technology, consistently ranked as one of the top high schools in the country.
Specifically, according to the Post, many said some measures -- such as middle-school grades and scores on the TJ math admission test -- should count for more than they do now, while essays should count for less.
The Washington Examiner reports that students have been falling behind at the prestigious magnet school for at least five years now.
One-third of rising sophomores at the school were recommended for remedial help in math, science or both by their teachers last school year.
According to the principal, students are expected to take Calculus BC in their junior year, but the proportion of students reaching that bar has been dropping over the past five years.