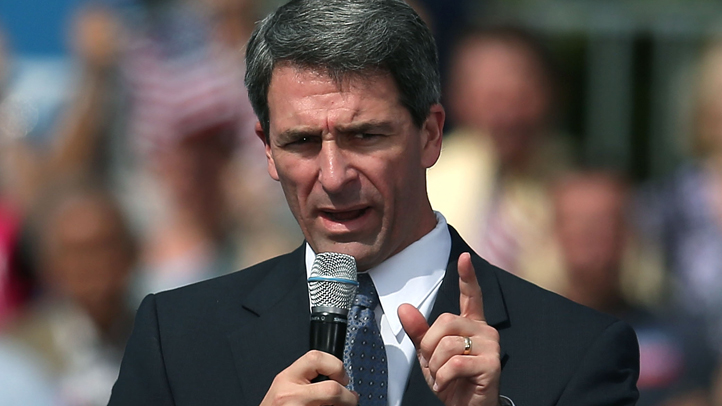 At this point, it's no secret that Virginia Attorney General Ken Cuccinelli doesn't support the Gov. Bob McDonnell-backed transportation legislation -- and on Thursday, the attorney general indicated to Politico that he may issue another legal opinion on the massive bill that the governor still needs to sign into law.
After Cuccinelli spoke at CPAC, Politico asked him if he had been in contact with McDonnell since the last day of the legislative session, when Cuccinelli nearly thwarted the deal by issuing a last-minute opinion.
His response:
First Read — DMV
A place for insight, analysis and exclusives on the people who shape politics in the District, Maryland and Virginia.
"Oh yeah, it went fine," said Cuccinelli of the meeting, before quickly adding, "He still has his work to do on that bill for the veto session on April 3," a reference to the one-day convening of the legislature when it will take up any bills McDonnell has vetoed or amended. "And we advise him on that and we've spent a lot of time doing that since the session."
When asked directly if he would weigh in again with a legal opinion he said, "Oh yes."
McDonnell has 30 days from the end of the legislative session, which concluded on Feb 23, to amend or veto any bills.
In response to Cuccinelli's comments, a McDonnell spokesman downplayed Cuccinelli's comments to Politico, saying the attorney reviews all legislation once it passes the General Assembly and this is all part of the legislation process.
IN OTHER NEWS:
* If elected, Democrat Terry McAuliffe said he would have a place for Republican Lt. Gov. Bill Bolling in his gubernatorial administration. (Washington Post)
* Prince George's County Executive Rushern Baker unveiled his $2.7 billion spending plan, which includes up to five furlough days for county employees. (News4)
* Gov. O'Malley's Celtic rock band, O'Malley's March, has already sold out its early show on Saturday in Baltimore. (Baltimore Sun)
* The sedan service driver dispatched by Uber who was accused of sexually abusing a passenger will not face charges after all, although the circumstances surrounding this decision are still unclear. (Washington City Paper)
* Former Anne Arundel County Executive John Leopold will spend at least 30 days in jail and 30 days under house arrest. He was convicted in January of two counts of misconduct for forcing his staff to do campaign work and run personal errands for him. (News4)
* After backing away from his comments that clubs Ibiza and Fur should close, D.C. Councilman Tommy Wells and an Ibiza co-owner issued a joint statement pledging to work together to improve public safety in NoMa. (Washington City Paper)
* Retail giant Walmart is among the supporters of "Don't Block D.C. Progress," a group opposing a bill headed to the D.C. Council that would require the city's largest retailers to pay higher wages. (Washington Post)
* Gov. McDonnell signed the Lyme disease prevention bill, which would require Virginia doctors to tell patients about false negative tests and the limitations of Lyme disease tests. (Richmond Times-Dispatch)