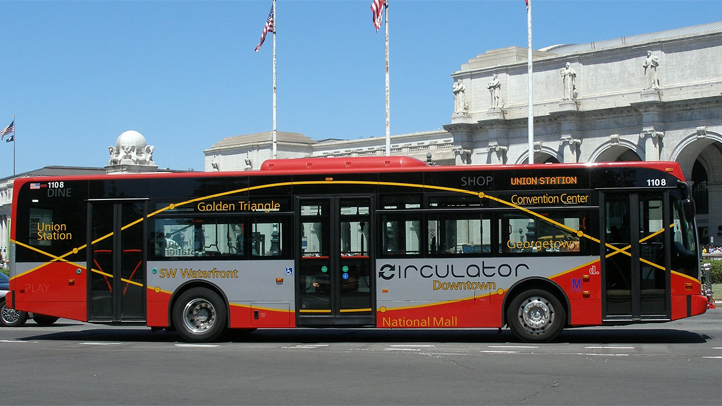 D.C. Councilmember Mary Cheh has proposed significant fare hikes for the Circulator buses, doubling the fare for passengers paying cash from $1 to $2.
SmartTrip card users would pay $1.50.
The fares would go into effect July 1, with the expected $1.7 million in revenue from the price increases going to the Washington Elderly & Handicapped Transportation Service and to expand Circulator routes around the city.
First Read — DMV
A place for insight, analysis and exclusives on the people who shape politics in the District, Maryland and Virginia.
A spokesman for Mayor Gray said he would evaluate the proposal, but that the mayor does not support raising fines, fees or taxes, The Washington Examiner reports.
IN OTHER NEWS:
* NBC News/Marist Poll: Terry McAuliffe and Ken Cuccinelli are statistically tied in Virginia's gubernatorial race. (News4)
* Lt. Gov. Bill Bolling will not be attending Virginia's GOP convention because he disagrees with the party's decision to change the method of nomination from a primary to a convention. (Richmond Times-Dispatch)
* Developers submitted a proposal for a 446,000-square-foot office and residential project at the Congress Heights Metro station. (Urban Turf)
* Cuccinelli talked to NBC's Julie Carey, saying that his failure to disclose gifts from the CEO of Star Scientific was an honest mistake. (News4)
* McAuliffe is being forced to explain on the campaign trail why two commercial ventures he proposed in Virginia haven't lived up to the lofty expectations he set. (The Virginian-Pilot)
* Cuccinelli is the Republican nominee for Virginia governor. How did the Democrats wind up struggling in the race? (Daily Beast)
* Gov. Martin O'Malley launched an initiative releasing a wide variety of state data to the public online. (AP)
* Business group leaders say Maryland needs to be more competitive on taxes. (Maryland Reporter)
* A 62-year-old man living in Columbia Heights apparently committed suicide after being evicted from his apartment. (Washington Blade)