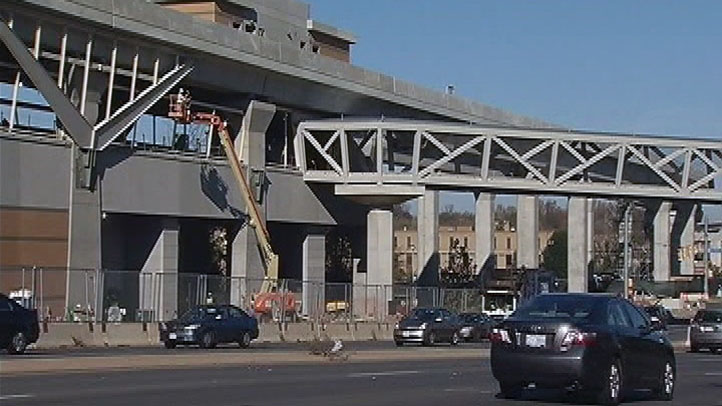 Washington Post reporter Tom Jackman pointed out this morning that the Virginia state Senate has already passed misleadingly titled legislation that would authorize the counties and cities in Northern Virginia to impose a one-percent tax increase on residents that would be used to remedy transportation problems.
The bill -- titled "City of Portsmouth authorized to levy to generate revenue for transportation" -- was passed last week and would allow the tax hike to be passed without voter referendum.
A local city council or board of supervisors would simply have to pass an ordinance in order to impose the tax.
First Read — DMV
A place for insight, analysis and exclusives on the people who shape politics in the District, Maryland and Virginia.
The bill still needs to be passed in the House, and if it does pass, there's sure to be some backlash. Jackman reports that none of the counties or cities in the area sought this authority, and when he talked to local leaders, only Arlington board chair Walter Tejada was open to even consider it.
The bill would authorize the counties of Arlington, Fairfax, Loudoun and Prince William, and the cities of Alexandria, Fairfax, Falls Church, Manassas and Manassas Park to impose the one-percent tax hike.
Read the full story here.

IN OTHER NEWS:
* Real estate website Trulia found that the D.C. area has the highest ratio of single women to me among the nation's 100 largest metropolitan centers. The site also has a map showing that Rosslyn is most popular for bachelors and upper Connecticut Avenue is most popular for the single ladies. (Greater Greater Washington)

* A study commissioned by the Maryland Stadium Authority recommended scaling back Major League Lacrosse's proposed stadium for the Chesapeake Bayhawks in Prince George's County from 22,000 seats to a range of 12,000-14,000 seats. (Washington Examiner)
* Bacon's Rebellion reads Cuccinelli's new book and concludes that the attorney general hasn't given as much though to the details of how he would administer health care as he has to the constitutional questions surrounding the Affordable Care Act. (Bacon's Rebellion)
* Donald Trump bashed Karl Rove on Twitter, but Gov. McDonnell says he's not picking favorites between the two of them; "I know both of them. They're all good Republicans." (CNN)
* Conservative blogger Jennifer Rubin says Virginia needs better candidates for governor and asks, "Why isn't Warner pushing McAuliffe aside to grab the governorship? " (Washington Post)
* Virginia's general fund tax collections increased by 19.5 percent in January over the same month last year, but Gov. McDonnell urged caution, explaining that the revenue surge was largely due to an additional January deposit day, which helped increase individual withholding payments by 17.5 percent for the month. (The Roanoke Times)
* Maryland's tax-weary legislature doesn't have the stomach to raise needed transportation revenues. (Maryland Reporter)
* The Virginia transportation bill is going before the Senate Finance Committee Tuesday morning, and Gov. McDonnell says he is open to possible changes. (News4)
* Mayor Vincent Gray vetoed a bill containing his proposal to reform the Certified Business Enterprise because he said it set "likely impossible" standards and created a system that was "ripe for mischief." (Washington City Paper)
* The Educator Fairness Act -- which changes the teacher evaluation process in Virginia -- is headed to Gov. McDonnell's desk for final approval. McDonnell, who is expected to sign the bill, says it will "result in teacher contracts that are fairer, clearer and will result in giving our students more capable and better-trained educators in the classroom." (News4)
* The Washington Redskins say they are proud of the team's name. (Official Site of the Washington Redskins)
* Mayor Vincent Gray's Sustainable D.C. initiative has drawn opposition from environmentalists who question if it's smart to study the potential of building a ""waste-to-energy" facility in the city. Gray announced in December that the city would spend $300,000 on such a study. (Washington Post)
* McDonnell ordered a 29-hour work week limit for part-time state employees so he wouldn't have to comply with federal health insurance requirements regarding those who work more than 30 hours each week. (News4)