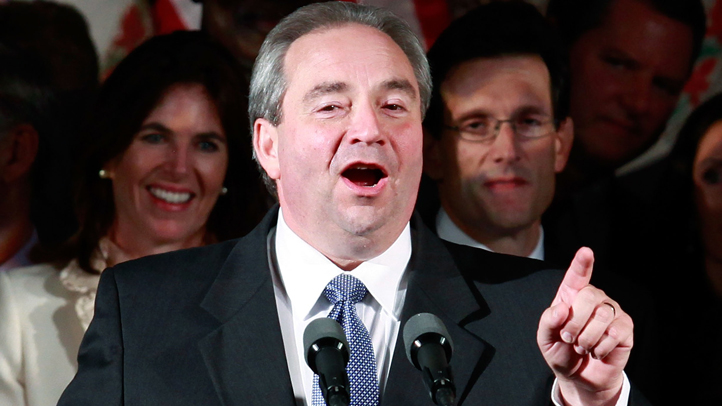 Lt. Gov. Bill Bolling has second thoughts about his decision to drop his bid as an independent gubernatorial candidate so early in the race.
Had he known the current state of the gubernatorial race -- with Cuccinelli and McAuliffe fighting it out in an already nasty election -- it may have been easier than he initially thought to raise the necessary funds to run as an independent, he told the Richmond Times-Dispatch.
"If I have one regret about the decision it's that I wish I had waited longer," he said. "Because if I had waited longer I think we may have (seen) the direction these campaigns were going and that may have made it easier to raise more money."
First Read — DMV
A place for insight, analysis and exclusives on the people who shape politics in the District, Maryland and Virginia.
But, Bolling added, it's unlikely that he'd consider re-entering the race.
IN OTHER NEWS:

* And the winner of D.C.'s special election is... Anita Bonds! (News4)
* Eighty-three percent of D.C. residents who voted in Tuesday's special election voted in favor of a referendum that would let D.C. decide how to spend its $6 billion a year in local funding without Congressional approval. (Board of Elections)
* But turnout on election day was really, really low. (News4)
* What's next now that a Marion Barry won the at-large special election? (News4 Opinion Columnist)
* Loose Lips was at Elissa Silverman's election night party as a growing sense of pessimism took over. (Washington City Paper)
* LL was also at Patrick Mara's "cautiously optimistic" election night party in Columbia Heights. (Washington City Paper)
* Former National Republican Party Chairman Michael Steele attended the funeral of his political mentor, Joseph P. Yeldell, over the weekend. Here's how their relationship came to be. (Washington Post)
* Cuccinelli 2016? "It's not inconceivable that [Cuccinelli's] arming himself for the ideological gunfight that's sure to break out in the 2016 Republican primary." (The New Republic)
* The political action committee of an anti-abortion group, Susan B. Anthony List, launched a $50,000 ad campaign attacking Democrat Terry McAuliffe. It has pledged $1.5 million to aid Cuccinelli. (Virginian-Pilot)
* Arlington officials say they will still move forward with their streetcar project despite the lack of federal funding. (Washington Post)
* Some Montgomery County Council members are trying to shrink the bag tax. (Washington Examiner)
* McAuliffe releases his tax information: He paid nearly $4 million in taxes from 2009 to 2011. (Richmond Times-Dispatch)
* Will Montgomery County Executive Isiah Leggett seek a third term in 2013? (Washington Post)