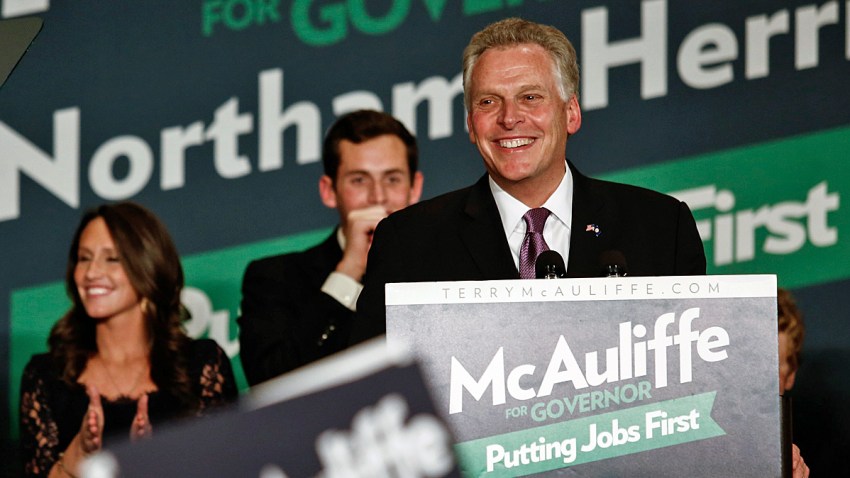 Republican Gov. Bob McDonnell on Thursday predicted a seamless transition for Gov.-elect Terry McAuliffe, citing the Democrat's business experience and his willingness to work with Republicans.
McDonnell and McAuliffe met with reporters in the Executive Mansion after lunch in their first public appearance together since McAuliffe's narrow win Tuesday over Republican Attorney General Ken Cuccinelli. McAuliffe takes office in January.
"This is going to be a very smooth, orderly transition of power," McDonnell said. "The campaign's over. It's time to govern. Terry wants to do it. He's going to be a serious, policy-oriented governor."
First Read — DMV
A place for insight, analysis and exclusives on the people who shape politics in the District, Maryland and Virginia.
McAuliffe, who noted that McDonnell was one of the first to congratulate him on election night, said while he is sure to have disagreements with a Republican-dominated House of Delegates and an evenly divided Senate, he is confident he will find common ground with the members of the General Assembly. He cited McDonnell's bipartisan success on a landmark transportation package, for instance.
"Maybe I am the ultimate optimist, but the issues that I want to focus on -- job creation and diversifying our economy -- I have to assume everybody, no matter where you are from in the commonwealth of Virginia, these are issues we'll come together on and work on," he said. "That is my main focus."
One of the biggest policy changes with a McAuliffe administration will involve an expansion of Medicaid in Virginia. McAuliffe supports the expansion.
The General Assembly, however, established a commission earlier this year to monitor implementation of cost-saving reforms as a condition for expanding the program to an additional 400,000 uninsured low-income residents under the federal health care reform law. McDonnell has sought "dramatic reforms" before expanding Medicaid, which accounts for a large chunk of the state budget.
"His views on that will drive the day," McDonnell said of his successor. "I know Gov. McAuliffe will have a very different view."
McAuliffe said he agreed with reforms.
"We need to deliver our health care more efficiently," he said. "I want consensus. We got to do this in a bipartisan way. I'm optimistic, at the end of the day, we'll all be very close."
McDonnell said their lunch-hour meeting didn't get into the weeds and instead turned to broader approaches to governing. He has made his key policy people and department and agency heads available to McAuliffe's transition team to smooth the shift in administrations.
McAuliffe, who once led the Democratic National Committee and is a confidant to former President Bill Clinton and Hillary Rodham Clinton, was effusive in his praise of the incumbent and his counsel. At one point, he pulled out a small notebook in which he recorded McDonnell's advice.
McDonnell said, "I want him to have the best possible start so when he hits that desk on Jan. 11, he's fully briefed on the budget and can make amendments that he sees fit at any time."
McAuliffe praised McDonnell for his graciousness and cooperation. "I just have to say this: Bob McDonnell is a class act," he said.
While their politics are at opposite sides of the spectrum, McDonnell noted one big shared experience: Both are Irish Catholics with five children.
First lady Maureen McDonnell was to welcome McAuliffe's wife, Dorothy, to the Executive Mansion later Thursday.

Copyright AP - Associated Press